Review of Riverdance at the Teatro Monte Casino, South Africa
February 3, 2011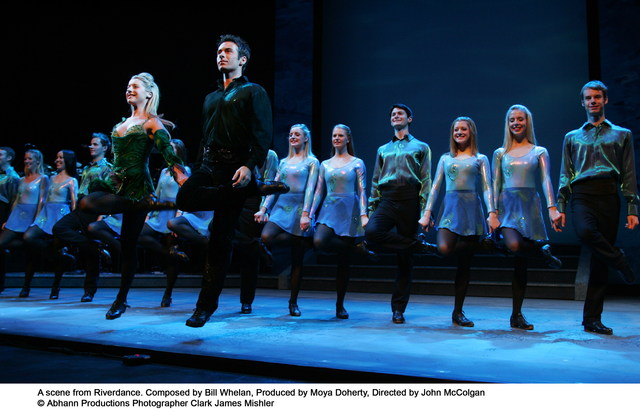 dancedirectory.co.za
3rd February 2011
Riverdance is an enormous theatrical production of no less than 65 cast and crew members. Riverdance features the amazing talents of more than 20 dancers as well as 4 backing musicians who entertain audiences with an innovative and exciting blend of Irish dance, music and song.
At the beginning of the show, everyone in the auditorium sat in awe. The energy of the dancers quickly had the audience exited and involved, clapping their hands to the beat of the music. The dancers' quick, precise footwork kept the audience intrigued and one could hardly keep one's eyes off the dancers' feet as they danced in perfect sync. The sound of the taps is loud and clear coming from the microphones attached to the soles of shoes. After interval, the show builds up to a dramatic conclusion where the tapping is lightning fast and done with great precision.
The choreography is excellent using international elements such as Spanish Flamenco and American tap.
The fantastic Flamenco dancer, Rocio Montoya's elegance and gracefulness complemented the rhythmic movement of the Irish dancers. She dances two solos in the show. The first is the Spanish/Irish fusion piece Firedance, which she dances with four Irish dancers, and the second is a more traditional flamenco.
A fun dance-off between the two tappers, Kelly Isaac and Gilbert Bailey and the Irish boys is a highlight. Gilbert also has a fine voice. Although this dance-off is approached in a light-hearted fashion, it also has serious things to say about different cultures as the Irish male dancers and the two tappers' work, flows in and from one another in an amazing way.
The Riverdance troupe is accompanied by the exuberant four-piece Riverdance band and the wonderful voices of the Riverdance singers. The lead soprano's divine voice is magical. The band comprises musical director Guy Rickarby on percussion, drums and bodhran, Toby Kelly on saxophone, Eamonn Galldubh's, who plays a rare instrument, the uilleann pipes and an extraordinary fiddle player named Niamh Fahy. Eamonn's pipes solo is particularly memorable.
The beautiful colours used for the costumes and the silk, hand dyed in Ireland, contributed to the absolute spectacular performance.
Even if you don't like dance or music, you will love the show because everything together brings you magic.
Riverdance is a wonderful show with powerful energy which magnifies and explodes from the stage, keeping the atmosphere charged from beginning to end.
Riverdance is on at the Teatro Montecasino, Fourways, until 20 February 2011.
In Cape Town, there will be six shows only. From Thursday 24 February to Sunday 27 February 2011 at the Grand Arena at GrandWest Casino