Riverdance – a brilliant aural and visual spectacle
January 27, 2011
Peter Feldman www.artlink.co.za
01/27/2011
Different versions of this Irish dance-style show have visited South Africa before, including "Lord of the Dance" by the celebrated Michael Flatley, but nothing prepares you for the brilliant aural and visual spectacle that confronts you here.
There are few occasions where I have been so overwhelmed by the sheer radiance of a show so flawlessly executed that I have been left virtually speechless.
Few adjectives can adequately describe the phenomenal flying footwork of this, the original Riverdance, the hauntingly beautiful music, the eye-catching costumes of the company and the changing lighting patterns that enhance the precision and skill on stage.
Added to the visual splendour, are areas of dance from other lands that have been incorporated into the show; a wonderful Spanish flamenco contribution from Rocio Montoya and energetic and inventive American tap from Kelly Isaac and Gilbert L Bailey II who proves he has a fine voice, too. A fun dance-off between these tappers and the Irish boys is a highlight.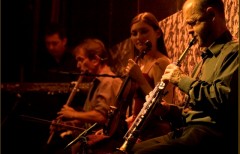 Vigorous and sensual, Riverdance features the amazing talents of more than 20 dancers as well as four backing musicians whose sound power transports the audience to heights of aural beauty. The band comprises musical director Guy Rickaby on percussion, drums and bodhran, an extraordinary fiddle player named Niamh Fahy, Toby Kelly on saxophone and Eaomon Galldubh, who displays his versatility on a rare instrument, the uilleann pipes.
The show is also greatly enhanced by the agility of its two charismatic lead dancers, Padraic Moyles, who seems to fly through the air with the greatest of ease, and the svelte-like Maria Buffini.
Riverdance is the development of an original idea (tracing the life of a river) by Moya Doherty, which was initially performed at the Eurovision Song Contest held in Dublin in April 1994 as a seven-minute interval act. With music and lyrics by Bill Whelan, Moya Doherty went on to produce the show which is directed by John McColgan. Amazing how a short interval act has blossomed into a critically acclaimed worldwide box office hit.
Don't miss it!
Riverdance is on at the Teatro, Montecasino, Fourways, until 20 February.

Peter Feldman has been a journalist and arts critic for over 45 years and served on The Star in various capacities for 35 years, ending up as a specialist writer on films, music and theatre. He writes regularly for Artslink.co.za, The Citizen, South African Jewish Report, The Sunday Independent
Montecasino Complex, Fourways Johannesburg Gauteng South Africa