'Modern take on tradition creates iconic dance'
January 24, 2011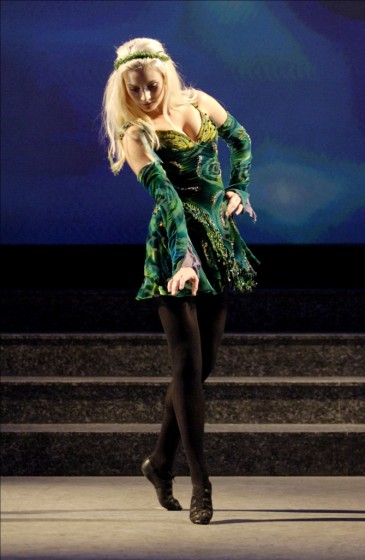 About 15 years ago,
Caterina Coyne  thought her dancing days
would end once
competitions were over.
Interview by www.joplinglobe.com
JOPLIN, Missouri
"I started dancing
when I was 4,"
Coyne said. "
I danced competitively for many years.
At that time, there was nothing to do after competitons.
Then Riverdance came on the scene."
Now entering its 16th year, Riverdance is a blend of culture, music and Irish dancing that has inspired imitators and spawned careers.
(Chicago native Michael Flatley released his "Lord of the Dance" after his time with Riverdance).
A Riverdance touring company will perform in Joplin as part of its North American tour.
Coyne is the lead female dancer for the North American troupe. She said the production's iconic dancing is a modernization of traditional Irish dancing — a cross between ballet and tap dancing, she said.
"When I was taught to dance, I was taught to keep my arms at my side," Coyne said. "Riverdance changed that. We use our arms in the show."
The show features Grammy-winning music composed by Bill Whelan and a troupe of more than 60 dancers, singers and musicians.
A show isn't limited to all things Irish — one of the more interesting numbers features a combination with flamenco dancing. Musicians also take the stage — a drum solo features the traditional bodhran drum.
But the show has also become an icon for Irish tradition with its compelling music and dazzling spectacle.
"I think the music and energy from the show is what gets people," Coyne said. "It's extremely passionate and lively."
Want to go?
Check out Riverdance USA Tour
Meet Caterina Coyne and the Riverdance Cast- Check out THE CAST – USA TOUR