Riverdance to bring Irish stepdancing – Cape Girardeau, Missouri
January 24, 2011
Riverdance brings not only Irish tradition but also modern dance to the stage.
The world famous production Riverdance brings Irish-style dancing and singing to the Southeast Missouri State Show Me Center Cape Girardeau, Missouri, for a one-night-only performance.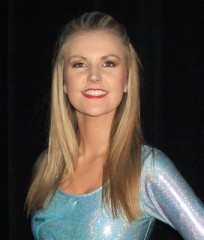 By Jacqueline Irigoyen , Arrow Reporter. www.capahaarrow.com
What started out as a seven-minute dance segment in 1994, Riverdance has become a full-scale production brought to people worldwide.
Riverdance emerged from Ireland and portrays traditional Irish dancing and music.
There are two different sets of dancers for the touring schedule. For the United States and Canada tour, the Shannon Company will be performing from January 2011 through June 2011.
The Moy Company will be performing for the China, South Africa, and Australia tour.
Dance Captain of the Riverdancers, Maeve Croke, oversees everything to make sure everyone's timing and choreography is perfect. She feels that there are certain requirements needed to be a part of the team.
"You need to have the right attitude and when you're traveling for months at a time, you need to be able to be away from family and friends," Croke said.
While Riverdancing is Irish in origin, they do incorporate other types of dancing into the performances.
"We do Irish dancing, but we like to show all aspects of dancing as well and that's why we have Spanish and American dances as well," Croke said.
Croke has been dancing in Riverdance for over five years now and still enjoys her position with them.

"Being part of of Riverdance is such an amazing job because you get to travel all over the world doing what you love with a group of amazing people," Croke said.
From when Riverdancing first started to what it looks like now, Croke has seen plenty of change.
"There is a lot more energy built up over the years of performing this, and then you have costume changes, and other small changes that have made watching it more exciting," Croke said.
In this year's performance, there are as many as 25 Irish dancers, one Spanish dancer, and two American dancers.
"For the people who have already seen it, the excitement builds each time due to the changes made, and for the people who haven't seen it yet, they are usually very surprised by all the different types of dancing and the live band," Croke said.

Riverdance is something that Southeast has never experienced before.
"This is the first time this has come to Southeast and that's really exciting," Marketing Director of the Show Me Center Shannon Buford said.
On the evening of Jan. 25, at 7:30 pm, Riverdance will be live at the Show Me Center.
Check out  Tickets for Show Me Center, Cape Girardeau, Missouri.