Riverdance taps its way into MBS theatre
December 3, 2010
By Alicia Wong – Yahoo News

Ten years after it last wowed local audiences, lavish Irish musical extravaganza Riverdance is back this month to open the sprawling, 1600-seat Marina Bay Sands theatre.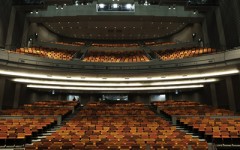 The Riverdance troupe, who are in the midst of their farewell tour after criss-crossing the world for the last 15 years, will be in town for a two-week performance starting November 30th. It marks the first major production to be staged at the MBS theatre, which was due to be completed by the end of 2009 but ran into several construction delays.
A show-stopping musical that taps into ancient Celtic mythology and Irish history to tell a story of the evolution of Irish dance, Riverdance started out as a mere seven-minute interval act for the Eurovision Song Contest held in Dublin in 1994.
It has since has grown into a near two-hour production that has thrilled an audience of over 22 million and grossed US$1.6 billion in ticket sales throughout North America, Oceania, Asia and Europe with its energetic, frenetic brand of tap-dancing.
Irish lead dancer Padraic Moyles is thrilled that, despite having toured the world and performed numerous shows, he and his troupe will be the first major production to grace the MBS theatre.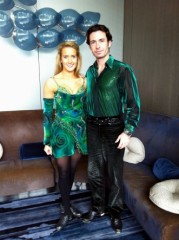 "To think, 15 years after Riverdance first started, that we would still be creating "firsts" is hard to believe," said the charismatic 31-year-old dancer who, along with female lead, Chloey Turner, was recently in town to promote the show.
"It would be fitting to say we are honored to be asked to open this unbelievable venue and I am absolutely certain that we will not disappoint," he added.
His female co-partner, Turner, was also thrilled to be part of the curtain-raising act for MBS' theatre.
"In the three years I've been in Riverdance, I've never opened a brand new theatre especially one as impressive as MBS," said the 23-year-old Englishwoman, who trained for two years at Riverdance to snag the coveted role of female lead dancer.
Both principal dancers commended the venue's facilities and are looking forward to their Singapore performance.
"Standing on stage it seemed as if the audience was on top of me, which is so exciting, to think that the audience will be that close to the performers," said Moyles.
Alicia Wong – Yahoo News

Tickets on sale Don't miss out!
Tickets $70-$170
A limited number of family packages (2 adults and 2 children) are available at $400 in Category A for matinees
BOOKINGS Website: www.marinabaysands.com
SISTIC Hotline +65 6348 5555
All SISTIC authorized agents