Irish tap dancing heats up the stage at Marina Bay Sands
December 2, 2010
Interview with Lead Dancer Padraic Moyles by AsiaOne.com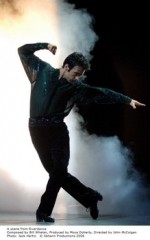 A large bucket of ice for sore legs after every show.
Every dancer soaks his or her legs in ice when they get off-stage – an essential practice among the dancers of the Riverdance company.
And it is probably one of the things that has kept lead dancer Padraic Moyles's legs intact for the past 13 years that he has been with the show.
The lively and colourful Irish dance and music sensation is the first show to be performed at the Sands Theater at Marina Bay Sands.
Riverdance kicks off its regional tour with 16 performances in Singapore.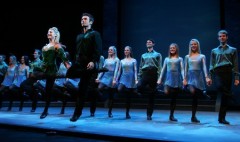 The tour has been named the Farewell Tour because it is the last time the Irish dance and music production will tour this region.
The 31-year-old Irishman shared several anecdotes about members of the company, places they had performed in, and their love for Irish dancing.
Moyles himself is married to a fellow dancer in the Riverdance company. His wife, Niamh O' Connor, has been with the show for 15 years and has appeared in some 5000 performances. She also performed in the show when Riverdance first came to Singapore in 2000.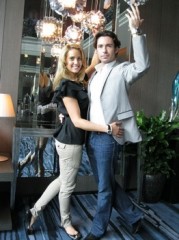 He gives AsiaOne readers a glimpse into what they can expect from the show which officially opens on November 30.
AsiaOne: What exactly does the name "Riverdance" mean?
Moyles: The first show was held along the River Liffey, the main river in Ireland. The composer Bill Whelan used the river as the theme and wrote the music with that in mind. If you listen to the music in Riverdance it takes you on a journey, just like the river would.
Since it had Irish dancing in it, he called it Riverdance.
How has the show evolved since 10 years ago?
Technically, it's always trying to stay on the cutting edge of technology – how we light the stage, how we produce our sound, our costumes – everything has changed a lot.
Riverdance is known for its energy and its synchronicity of its performers. We've been able to bring that energy to smaller venues. It will be a much more memorable performance.
Are there any superstitions or rituals you do before a show for "Irish luck"?
I go off into a corner of the stage and walk back and forth. I don't talk to anybody – when people talk to me I ignore them because I'm in my own little zone. I need to get to a place in my head that makes it feel right to go out there.
Read the full AsiaOne.com Interview here
Riverdance runs from Nov 30-12 Dec at Marina Bay Sands Theatre