Moya Doherty – Donegal's Queen of the Dance
September 8, 2010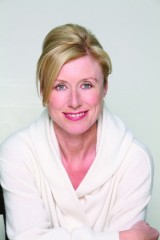 Extract from Donegal Democrat on 2 September 2010. Interview with Sue Doherty
If Michael Flatley is rightly known as 'Lord of the Dance', then Moya Doherty, the Donegal-born co-founder of Riverdance and Tyrone Productions, could well be called 'Queen of the Dance'
Moya Doherty was the RTE producer who came up with the idea for Riverdance as an interval act for the 1994 Eurovision Song Contest, which is often referred to as 'a cultural watershed' for Ireland.
She and her husband John McColgan mortgaged their home to help finance the expanded stage show, which opened in Dublin in 1995 and went on to gross a staggering €100m per year for the next five years. Riverdance has been seen live by more than 22 million people in over 40 countries. It opened for the first time in Derry, at the Millennium Forum, for a limited run on 2nd September 2010.
To coincide with this event, Moya Doherty spoke exclusively to Sue Doherty. She credits her Donegal roots with giving her a very strong work ethic and determination to succeed.
"I lived in Pettigo until just after my First Communion. My parents, Daniel and Patricia were both teachers, my father at the local national school and my mother out the road at Tamlaght. There was a ban on married women teaching at the time but it was lifted in 1958. I was born in March and my mum went to work.
"My memories are very happy. There are five of us, Niamh and Nuala ahead of me and then Pauric and Sean. We're all based in Dublin now, after travelling and living all over the world. Pettigo was lovey, a really gorgeous place to grow up, with the country on your doorstep. Charlie McGeady lived across the road and taught with my mother. We used to go with them to Tamlaght in the morning to light the fire and open up the school. It was a bit of a big adventure in the VW Beetle on the icy roads in winter, as my mother wasn't always the greatest driver but she kept to a very gentle speed!
"Both my parents set very high standards for themselves. I think that they were driven to attain personal goals rather than achieve success. Any job that either of them would do, they would do 150% and that's something that I inherited. My paternal grandfather was the same. I suppose that's an exhausting way to be, but it seems to be a trait that is particular to Donegal. I really do believe that Donegal people have a strong work ethic. Maybe it's genetic, or maybe it was part of the era, but people seemed to have endless energy up in Donegal.
"My father's parents, Bridget Curran and Patrick Doherty, met and married in New York, where he worked in the tunnels and she was in service. They had three children there, including my father, then came back to Dungloe in the mid-1930s. They bought a pub, Beedy's Bar, which is still in the family after three generations.
My mother's family also ran a pub, Mulhern's Corner Bar, which is right across the road, and is also still in the family.
"My parents moved to Dublin when I was seven, and we were all raised there, but, because they were teachers, we all spent every summer up in Dungloe with our cousins. About 30 years ago, my parents built a house out on the Carnmore Road, and they enjoyed a wonderful retirement there. Although they both passed away a few years back, we still have the house there and spend a lot of time at it."

Although Moya was the daughter of two school teachers and secured a place at UCD where she was set to study French and Irish in 1975, she knew deep down that it wasn't for her.
"The only thing I wanted to do was act but there were no drama courses in Ireland then. So a did a secretarial course, hoping to get into RTE and then work my way into the RTE Rep (company of actors). I got a job, as a secretary in RTE, and started at the bottom rung of the ladder, working my way up to broadcast assistant.
"Then I was given the chance to tour for a year with TEAM theatre company. I got a leave of absence from RTE and had a great experience, working with people like Gina Moxley, Donal O'Kelly and Mary Costello.
"When I went back to RTE, I worked in the newsroom as a production assistant, which I absolutely loved. I got my NUJ card and became a presenter/reporter.
"I moved to London in the 1980s where I worked in TVam. As time went on, I felt that presenting wasn't for me. I wanted to get involved in the producing side, growing your own idea, managing it and bringing it all together. I came back to RTE as a producer/director. I decided it was worth coming home for the training, and the opportunity, even though times were hard in Ireland then, while London was booming. I was almost five years away and I think there comes a point when you have to decide to stay or come back home.

"My advice to anyone has always been follow your dream, to do something that you are passionate about it. I would be hugely suspect of the points system because I think it forces people down routes that they're not necessarily certain about and you get a lot of square pegs in round holes. You spend a lot of time at work so you need to love it.
"I think people of my generation were also very lucky because we could take risks. I don't think success is the result of any one big decision. In my case, anyway, I think it's a combination of when I was younger always considering whatever I was doing at the moment as the most important thing and then, if something more interesting or appealing to me came along, not being afraid to give up the permanent and pensionable job and go for it.
"The era that I grew up in, we were able to take those small risks, there were jobs. I was fortunate to be in London in a time of great opportunities. I changed around a lot too, never really stayed in the one place for a long time
There was a series of moves, all part of my enthusiastic approach to life, which was very much in contrast with my parents' experience. They were of first generation to access third level education and getting the permanent and pensionable job was the most important thing. They weren't always entirely thrilled with my willingness to take risks.

"I suppose in some ways, we're coming full circle again, and starting to really value people like teachers, who are hugely influential and can really inspire their pupils. and respect that role and the value of it in a child's life.
That's one of the reasons I'm so passionate about sponsorship and funding for the arts, especially in education."
"In Ireland, we have this phenomenal legacy of great artists and writers, for such a small country. The funding and sponsorship of the arts, and even within the education system, is absolutely critical for our success and future as a country. "The points system works against that. It sets down an agenda that doesn't allow space for creative thinking. Modern studies are showing the absolute importance of creative thinking, even in disciplines such as engineering, as thinking outside the box is vital in problem solving."
"One other thing that's very important is learning from mistakes. Although The Pirate Queen wasn't the big success we hoped it would be, it was a wonderful experience. I never harbour regrets, I think that's kind of futile. In fact, you learn more from mistakes and things that don't go as planned that you often do from the big successes. It's all part of an incredible journey, and so worthwhile. Anyway, wouldn't you rather lose the money that way than by having it sit in bank shares? It's much more fun!"