Riverdance in Alabama and Virginia
May 26, 2010
Kevin Horton, Dancer, Boyne Company
We had two groups traveling to Huntsville, Alabama, with one leaving early in the morning and the other leaving in the afternoon. We had to take two flights, so I was pretty lucky to be in the afternoon group. It was a rather long day, but we all arrived safely to Huntsville. We were staying in an Embassy Suites, so the rooms were nice and big, and another perk of this hotel is the manager's reception that is held everyday. Every early evening, the hotel has an open bar and finger foods for all of its guests to welcome them to the hotel. Since we arrived on Monday with no show, we were able to take advantage of this great reception. We had a very relaxing evening, then everyone headed out into the town for dinner. It was going to be a busy week of shows and travel, so everyone kind of took it easy.
We had one show on Tuesday and two shows on Wednesday. Since the shows were close together on Wednesday, the company put on a catered meal for us between shows. This is always a good thing, since sometimes there is not enough time to go into town to find something decent to eat. The hotel was also conveniently connected to the venue by a walkway! Our couple of days in Huntsville went by quickly, and we didn't really get a chance to experience too much of the town. Although, some did get to check out NASA, which is America's Space Program. Huntsville is home to the Marshall Space Flight Center, the U.S. government's civilian rocketry and spacecraft propulsion research center. So, some were able to check out this amazing facility and how it contributes to America's continued space exploration!
On the Thursday, the company headed to Norfolk, Virginia. We all had to be split into two groups again with two flights each group. By now, we are beginning to feel that our second home is the airport!! Norfolk, VA is a Navy base town and a port city for cruise ships. Adding to the bustling downtown area with shops, restaurants, and pubs, you can walk along the water and see a mixture of U.S. Navy ships and cruise liners. It made for some nice walks between shows at the weekend.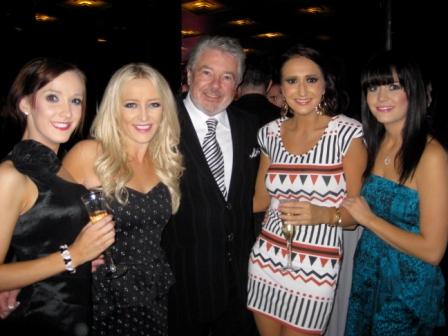 Some of the cast rented cars for Friday during the day and traveled to Busch Gardens theme park, which is located in Williamsburg about an hour from Norfolk. Dancer Marcus Maloney has choreographed an Irish Dance show for the park, Celtic Fyre, which opened recently, so we were all able to catch a glimpse of his masterpiece! We were all impressed with the overall production, a big congrats to the cast and crew for a job well done. We all enjoyed a day of roller coasters and before we knew it, we were back in Norfolk for the 5 show weekend.
I can't believe we only have a few weeks left of tour! Next, we headed on our last split week to Chattanooga, Tennessee, and Greenville, South Carolina.
Until then…
Kevin