Riverdance continues its European tour in Stockholm, Sweden
January 15, 2010
Patricia Henry, Dancer, Corrib Company
Hi everyone, and a very Happy New Year and I hope you all had a lovely and peaceful Christmas.
Well its back on the road for us again here in the Corrib, but we were lucky to get a nice two weeks off to spend with our family and friends over Christmas, unlike our colleagues in the Boyne and the Bann who had to work all over Christmas. So with us all rested and ready to go we found ourselves all back in Dublin Airport on Monday morning the 4th of January catching a flight to Stockholm. Even though we were use to the cold from all the snow we got at home we still were not prepared for the cold in Sweden, it was even as low as -18 during the day so unfortunately it meant that we didn't get to see very much of the city.
All lot of us were here before but those who were not did manage to brave the cold weather conditions one of the days to see the sights of the city. Stockholm is such a lovely city I would definitely suggest coming to visit – but maybe wait until a little later in the year so it won't be so cold. Luckily everything we needed was right beside the venue so we did have to venture to far.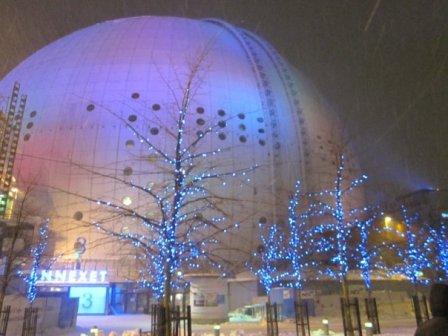 A lot of the cast and crew got sick here in Stockholm because we were going from heat to extreme cold so in general it was a very quiet first week back on tour. The last day in Stockholm was on Sunday when we only had one show so it meant that we were able to go for dinner and head out after the show. The band had organised a session in one of the Irish bars in the city so that's where everyone ended up after getting some food and checking out the unique Absolut Ice Bar, this definitely is a must for people visiting Stockholm.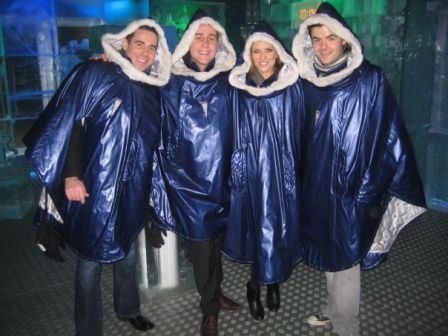 As always there was some press work to be done and the lucky ones chosen this week were Aoife McDarby and Darren Casey. They had to do a radio interview with a local radio presenter – they even had to dance on the radio. This was done so that the show would be also promoted in the next city as we are performing in, Jonkoping.
Other than everyone catching up and finding out what we all got for Christmas there wasn't a lot more going on for the first week. Hopefully the weather will soon get a little warmer so that we will be able to get outside and exploring the beautiful cities that we visit. Check back next week to see what we get up to.
Happy New Year,
Patricia
Riverdance in sunny San Diego!
<