Riverdance in sunny San Diego!
January 12, 2010
Laura Yanez, Soloist, Boyne Company
Hi everyone! This week we were in gorgeous, sunny San Diego, California. As everyone back in my home on the east coast (and in Ireland!) is having snowstorms and record lows, San Diego was among the hottest American cities this week. What a good time to be here! Our hotel was located in the Gaslamp Quarter of the city, which was where all the entertainment, dining and shopping was to be had. It was a little too easy for some of the girls and myself to find any excuse to pop into stores on the way out of the hotel! On Monday night, we celebrated Piper Declan Masterson's birthday with an Irish music session at a local pub. He even broke out the guitar for the occasion!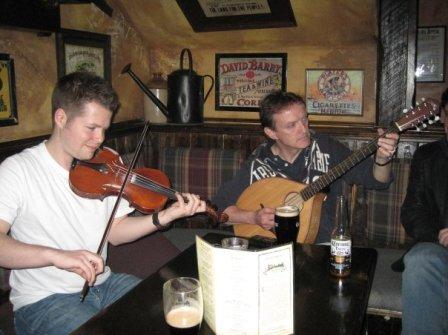 On Tuesday, we went to the beach on Coronado Island and spent the day playing in the surprisingly warm surf. It seemed so surreal to be enjoying such heat in January! This beach was made famous by the Marilyn Monroe film "Some Like it Hot", which was filmed partially in the Hotel del Coronado. It was quite the resort to see in person, with the most beautiful hotel balconies I've ever seen!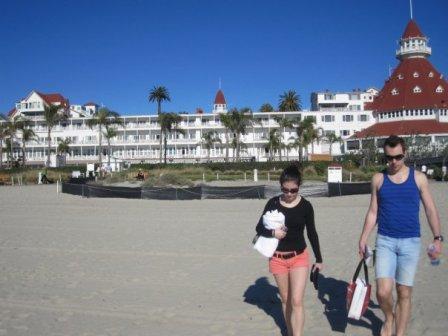 We were performing at the Civic Theatre in downtown San Diego. This theatre had posters of various touring shows backstage signed by the companies with candid pictures of the cast. I counted five Riverdance posters already on the walls! They threw an opening night party for us at a beautiful hotel near the venue. Eating hors d'oeuvres on a grand terrace under the California night sky was a great way to unwind after our first show!
On Wednesday, a group of us went to SeaWorld San Diego for the day. It was a great time seeing all the aquatic animals and seeing the pet show and the Shamu show "Believe". We also went on a water ride but got completely drenched in the process…not the best decision but quite hilarious!!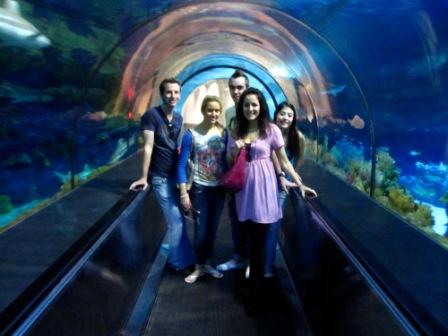 The week went along quickly with so much to see around the city. Everyone seems to walk around with a bit more spirit backstage when they've been having fun all day! Whether from whale watching, walking along the seaport, or exploring Naval ships and submarines, everyone was busy until our four-show weekend! On Saturday, the theatre threw us their traditional between show barbeque, complete with a Riverdance cake. After lunch, they had set up a ping-pong table, along with Frisbees, hula-hoops, footballs and jump ropes. Some of us spent a good while afterwards remembering how to double-dutch. It turns out that Irish dancer Dan Triggle and Tappers Jason Bernard and Kelly Isaac were the masters at double-dutch! I can't remember having that much fun in between a show. I hope I get another chance to perform at the Civic Theatre…if just for the fun and games!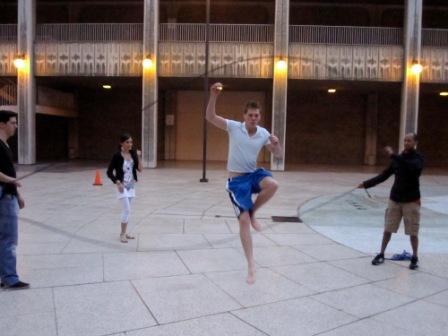 As the week wound down, everyone started to focus on our upcoming two weeks in Los Angeles. Who knows what the city of angels has in store for us! Check back next week to see how we are settling in. Until then,
Laura