New Year's with Riverdance in Zhoushan and a Weekend in Hangzhou
January 7, 2010
Kevin Horton, Dancer, Bann Company
With an amazing Christmas week under our belt and a deeper understanding for the Chinese culture, it was time to continue our worldly adventure with two more cities. What was supposed to be a two city week, ended up with us traveling midweek to Zhoushan for one show and then on to Hangzhou. I have never done more than two cities in a week, so I was interested in seeing how the week would pan out. I will say our travel day to Zhoushan was very different. We had an hour bus trip to the airport, flew to Ningbo, then took a two hour bus journey to a ferry port where we were supposed to take a boat to Zhoushan. We ended up not having to get the boat, which was a nice surprise, because the day was long enough! But we arrived safe and sound and ready for our one show.
Picture this…New Year's Eve 2009, you are in a country that celebrates their New Year's in February, playing to 6,000 people in a sold-out stadium, and the temperature on stage is around 50 degrees Fahrenheit (simply because the designers of the building forgot to add a heating system)! It makes for one heck of a stop on tour! The buzz from playing in a stadium is great, but I have never been so cold dancing in my life. But the show must go on! It was very comical to see the entire cast and crew in complete winter gear backstage before each number. Taking off that winter coat to go on stage was tough!!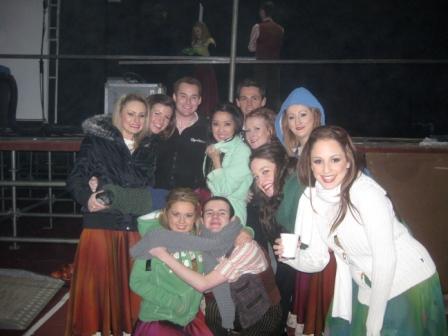 Since it was New Year's Eve, the promoter held a party for us in the hotel bar with food and a few drinks! Of course we had to ring in the New Year in style. A great night was had by all, even though the thought of traveling on to Hangzhou in the morning loomed over all of our heads. It was kind of surreal to be in a city for only one show and it felt like a small blip on the tour schedule, but we will always have great memories of the time we spent in Zhoushan to ring in 2010.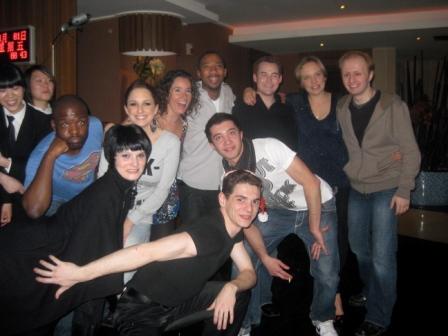 On New Year's Day, we traveled by bus for a couple of hours to Hangzhou and arrived to find a bustling city full of great things to keep ourselves busy. We were right in the middle of downtown and right next to a shopping district. The girls in the troupe were very happy! Unfortunately we were only here from Saturday to Sunday before we moved on to Shanghai, so we did not have much of a chance to see the city. We did however get to visit West Lake, which is a massive lake community in the center of Hangzhou. Beautiful buildings and picturesque sceneries lined the shoreline and made for a great stroll down the boardwalk. We often forget how massive each city can be, and while looking out over the lake, the abundance of buildings and mountains can sometimes be overwhelming!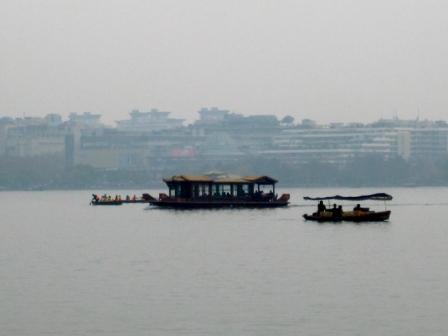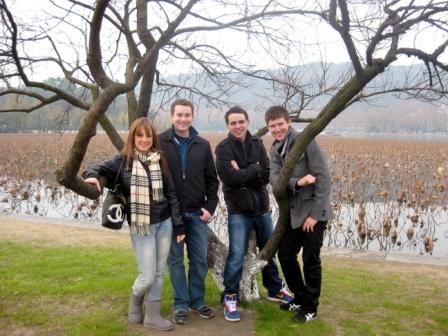 Just yesterday we arrived in Shanghai and so far this is one of the coolest places I have ever been to! Next week I will tell you all about it…until then…
Kevin