Riverdance begins it's tour of California!
December 22, 2009
Laura Yanez, Soloist, Boyne Company
Hi Everybody! This week we embarked on the California leg of our tour with a split week between Santa Barbara and San Bernadino. On Monday, we flew from Austin to Los Angeles and then took a bus to Santa Barbara. A few us stayed on in L.A. to visit family and friends because we had Tuesday off! As you can imagine, it's always very exciting to get a full day off because we usually are traveling on days we are not performing. Those that traveled to Santa Barbara got a whole day to take in the stunning views of both ocean and sea, and do some holiday shopping in the quaint downtown area. The troupe planned a big night out for Tuesday to get everyone in the Christmas spirit.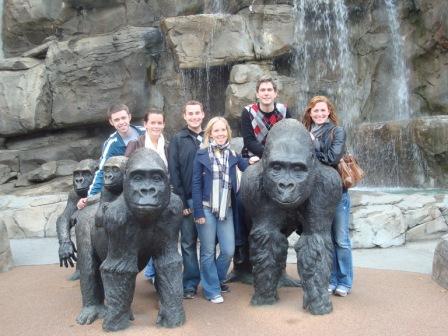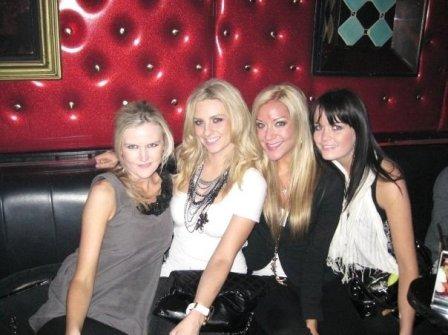 Our venue for our time in Santa Barbara was the most interesting theatre I've performed in to date. Inside the theatre looked a bit like a Mexican cantina, and the backstage was pretty small for our big company! Our wardrobe and physio departments were located outside the backstage area, and we also crossed outside from stage right to stage left. Thank goodness it was warm and sunny most of the time!
On Friday, we had a short bus trip to San Bernadino, located about an hour south of Los Angeles. It is situated in a desert valley, and it was a bit surreal to be in summer weather a week before Christmas! Nevertheless, this week marked the beginning of Secret Santa! Most of the company drew names last week and spent this week leaving poetic clues and little gifts for their Secret Santa all over the venues. Many of the troupe have to wear silly getups and perform crazy tasks before shows so they can receive a present from their Santa. I'm enjoying all of the hubbub it's created within the cast, and would like to tell my Secret Santa, if you are reading this, that you're fabulous!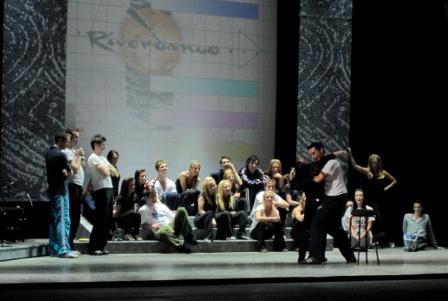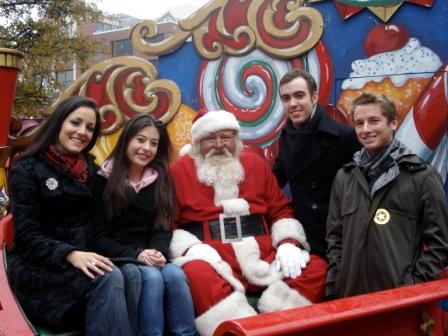 As split weeks tend to do, this one flew by. On Sunday, we said goodbye to keyboardist Brian Whelan who is going home to Dublin for the holidays and then back to school in Boston. Cathal Synott will be on board as keyboardist for the rest of tour. We also sent off Ciara-Lee Jenkinson, who will be home for the holidays and welcomed Jillian Farmer in her stead. This upcoming Monday we travel to the Claremont Resort in Berkeley, California for a week of shows in San Francisco…and for Christmas!! Until then, wishing you luck for any last minute holiday preparations!
See you next week….
Laura
Riverdance travels to Austin, Texas
<
Welcome to Riverdance in China!
>