Riverdance makes short stops in Lille and Lyon!
December 15, 2009
Patricia Henry, Dancer, Corrib Company
We only had a short stay in Lille, with one show on Tuesday and two on Wednesday. Unfortunately this is where we had to bid a sad farewell to a few company members who were heading off to join the Bann Company that will be touring China and Korea for the next couple of months. Those leaving were Alanna McCrudden who is taking over the position of Company Manager, and Irish Dancers Niamh McDarby, Mairead Masuada, Deirdre Hamilton, Anthony Fallon, Jason Oremus and Brendan Dorris. They will be rejoining us again the end of February. On the bright side we welcomed four new Irish dancers to the Company – Katie Hands, Craig Mason, Caitlin Nic Gabhann and Gillian Madders. Prior to joining us on tour, they spent a week training in Dublin with our dance director Breandán De Gallai and also Eileen Martin. Also this week old company members Darren Casey and Justin Walsh rejoined us.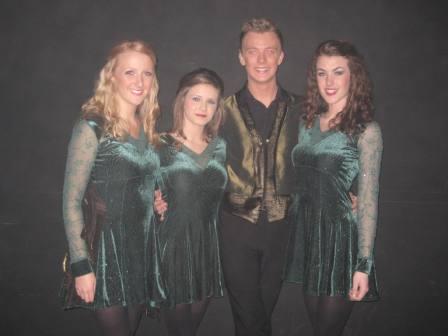 As we travelled to Lyon on Thursday we decided that we would celebrate dancer Damian Doherty's 30th birthday on the Wednesday night as this way we were able to have a last night out with the people going to China and also welcome the new troupe members. We all headed out to the Irish Bar Tir na Nog and had a great night -especially Damian.
Unfortunately we were up early in the morning as we had a nine-hour bus journey to get to Lyon. Just like Lille, we only had a flying visit to Lyon, and because we were staying beside the theatre we didn't get to check out the city at all as our schedule was so busy. We had one show on Friday, two on Saturday and then one on Sunday. Sunday was very exciting though as Ciara Mc Gillen (who has been training for the past couple of months for the Female lead role) got to do her Dress Rehearsal and I have to say she looked amazing. The girl's dressing room was full of excitement as we were helping her out with her hair and make-up.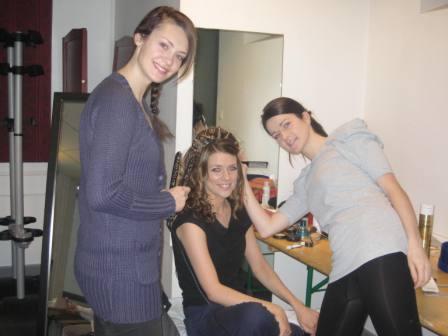 Next week Ciara performs the lead role for the first time in front of an audience so we want to wish her the best of luck, check back next week to see a picture of Ciara in costume. Next we head to both Strasbourg and Nantes so hopefully the weather will be a bit nicer as well.
Bye for now
Patricia
Riverdance Soloist Laura Yanez in Fort Worth, TX
<
Riverdance travels to Austin, Texas
>