Riverdance Soloist Laura Yanez in Fort Worth, TX
December 8, 2009
Laura Yanez, Soloist, Boyne Company
Hi everyone!
As Kevin mentioned in the last blog, I'll be keeping you up to date over the next ten weeks as he is off Riverdancing in China with the Bann Company. I'm excited to get a chance at writing the blog, so I hope you enjoy reading them!
This week we traveled to Fort Worth, Texas, a beautiful and historic city located about 30 minutes from Dallas. Our hotel was situated in the heart of downtown, near the historic Sundance Square. We also had only a one block walk from the hotel to the theatre, which the whole company always loves!
This week at the venue was a very busy one. On Friday we said goodbye to troupe members Niamh O'Conner, Padraic Moyles, Christina Havlin and Kevin Horton as they headed off for the Chinese tour. American tapper, Jason Bernard, also made the 16-plus hour flight to Shenzen, China to fill in for the first few weeks of the tour. Tapper Kelly Isaac did a great job performing this weekend without his tapping partner in crime! Liam Ayres began dancing lead again this Saturday and slipped effortlessly back into the role. We also welcomed new troupe members Christina Dolzall, John Grimes and Aisling McVeigh to the company. All are brand new to the show and had the exciting, if daunting, task of going straight into a few numbers their first weekend after only a few rehearsals with the full troupe! Of course, they all did just fine thanks to the help of troupe members drilling dance numbers with them in every corner of the backstage. Needless to say, everyone was buzzing from all the new energy about the show this week!
Celebrating birthdays on tour is always something to look forward to, and this week we had a big one: dancer Ciara-Lee Jenkinson's 21st! Since it is such an important birthday, she pulled out all the stops and had a limo take her and some troupe members around town before her party at the Flying Saucer. It was a very fun night for everyone!
During the week, many of the company explored the historic Fort Worth Stock Yards. Coined "The Wall Street of the West", this was where cowboys in the 1800's herded and sold their cattle to the region. Full of saloons, restaurants and some original stables, the area has been historically preserved for tourists to enjoy. Some of the dancers completed a hilarious race through old stockyards and we even saw some famous Texas Longhorns!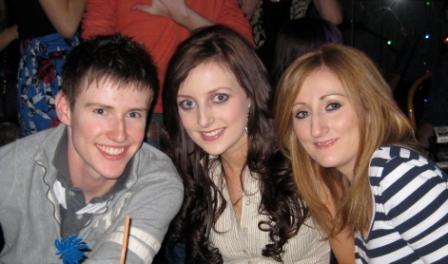 As if the week wasn't busy enough, it just so happened that the Southern Region Oireachtas were going on in Dallas. Oireachtas are regional Irish dancing competitions, so many of our dancers had friends competing or simply wanted to see some dancing! I'm all about supporting the arts, but getting up at 6 am to drive to another town before a two-show day is not my cup of tea! I guess that shows how much our dancers love what they do for a living.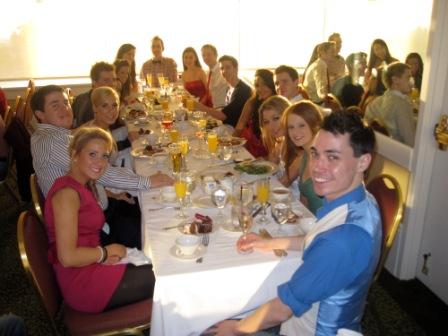 Next week, we travel to Austin, Texas, a city of country music!
Signing off until then,
Laura