Riverdance – A Week in Denver!
December 2, 2009
Kevin Horton, Dancer, Boyne Company
Everyone was very excited to get to Denver and we had an early flight, so we arrived with plenty of time to begin enjoying the city. Our hotel was right in the center of downtown and within walking distance of the theater, always a plus. One of the troupe dancers, Billy Kanaly, is from Denver and on Monday night a couple of us went to his house for a nice home cooked meal! It was very nice of his family to open up their home to us and it was a great way to start off Denver. Billy had a busy week as well with over 600 family and friends coming to see him perform throughout the week. No pressure Billy!!
Thursday was Thanksgiving and since all of us are away from home, the company put on a great meal at a place called Baur's Ristorante of Denver. It was a fantastic meal and everyone spent the day relaxing and enjoying their day off! After the meal a group went to the Denver Broncos vs. New York Giants football game. The stadium was packed out and for some it was their first time experiencing the NFL. The game was very exciting and no, it wasn't too cold to be outside in Denver in November!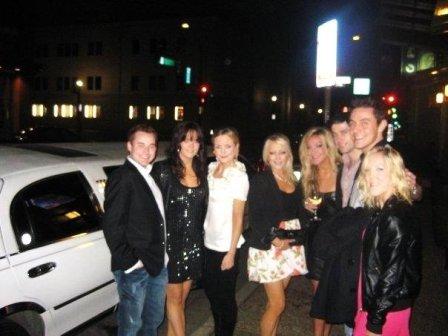 It turns out that dancer Billy Kanaly's family has a cabin in the Rocky Mountains in a town called Silverthorne. It was only about an hour and a half outside of Denver, so after the meal and football game, a group made the trip up to his cabin. There was some snowmobiling that took place, but don't worry, no one went skiing. We wouldn't want to hurt ourselves before the weekend of shows! Watching the picturesque sunset across the Rocky mountains was breathtaking and a great way to end this very blessed and thankful holiday!!
The week seemed to go by fairly quickly and after our four show weekend, it was time to head back to Texas; this time we are heading to Fort Worth for the week.
I also would like to say thank you for reading my blog the past couple of months. I am heading to China with the Bann Company next week, so lead singer Laura Yanez will be keeping you posted on all the happenings in the Boyne.
Talk to you all from China!!
Take care…
Kevin