On tour with Corrib Lead Dancer Deirdre Hamilton
November 6, 2009
Hi Everyone!
I am Deirdre Hamilton, a lead dancer with the Corrib company. We have just recently begun our European tour. At the moment we are in Germany and getting ready to head to Russia very soon! Exciting stuff. I am going to be giving you all a little inside look on what the life of a lead dancer in Riverdance is like! There are six of us here on tour. Three girls and three boys. It is a very special job that we have and I am so lucky to be here….so I would like to share some of my experiences with you!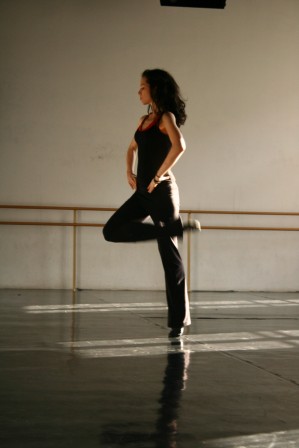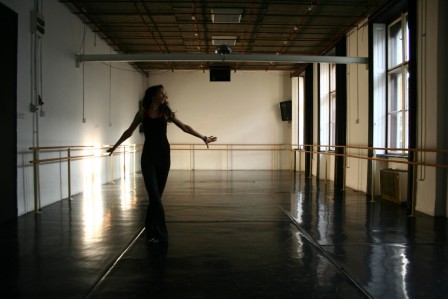 We opened this tour in Ljubljana, Slovenia on September 28. There were 4200 people in the audience! My first night dancing lead was our second show. My partner that night was Alan Kenefick. It was very exciting and nerve-wrecking to dance lead that night! I had finished the last U.K. tour in May and had time off from touring since then. After such a long time off it is a bit scary to get on stage again….but very fun.
I have to say it was tough getting through the first number, Countess Cathleen. It is quite a long number, and it is very tiring. No matter how much i try to keep myself fit when I am off the road nothing can really compare to the feeling of actually being on stage and pushing myself 150%. So it can be a bit of a shock to the system being back on stage! But luckily the nerves, adrenaline, the audience, and our great cast and crew all help to get us all back in the swing of things and enjoying our time on stage! Prior to heading on stage for Countess Cathleen, another thing that was worrying me was the lift that the Russian dancers do with the female lead. The timing of that lift has to of course be perfect otherwise it doesn't work so well! Although, no matter what I might do to nearly mess it up, those amazing guys always take control and make sure things go smoothly! Even so, they were kind enough to make sure we had time to rehearse the lift enough times before the show so that I felt comfortable with it again. Alexey, Danila, and Oleg are always very helpful and patient, and even offer words of encouragement on stage which gives me a real boost.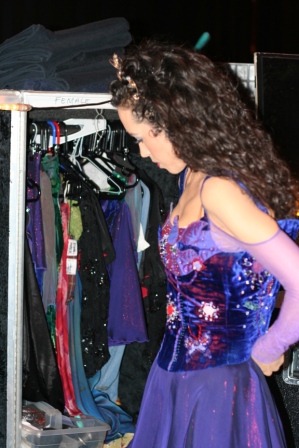 The rest of the show seemed to go smoothly. Alan and I had a great time. It was also his first show back as lead this tour and we had an incredible audience to welcome us back. The Slovenian audience was one of the best I have ever performed infront of. There was a great energy coming from them throughout the entire show. There was such a huge ovation during the finale that I was quite emotional. Having such a wonderful response from the audience really reminds me why I love my job so much! It is a feeling that can not be described with words, but only felt. That might sound a bit cheesy, but it's true!
Friday October 1, we headed off to Vienna, Austria. Our first show there was a matinee on Saturday at 3pm. Our first show in a new city is not usually a matinee, so there was an extra early start in Vienna for our crew! Many of the crew members were already at the theatre starting to set up at 2:30 in the morning! Us dancers have the easy job….we definitely can't complain! Our crew does a lot of hard work so that we can get up on stage and dance our best. I was in the theatre at about 12:15pm that afternoon. I was dancing the lead that afternoon with Alan Scariff. I was fortunate enough to have two friends drive all the way from Budapest, Hungary that afternoon to watch the show. It always makes performing the show that extra bit more special when you know someone in the audience. At 12:55pm (one of my favourite parts of the day!), I headed to the massage room for a very enjoyable massage with Tony Clark, our massage therapist. No matter how I'm feeling when I enter Tony's room, physically and mentally, I always leave feeling much better! Not only do his amazing massages make my legs feel great, but he always has something encouraging to say to me which always helps get me in a good frame of mind for the show. The leads always get a massage a couple of hours before the show starts. It is something that really helps us feel good and prepare for the show, and something to really look forward to! The show went great and I met up with my friends from Hungary for a coffee afterwards. They loved the show and were very proud of me! They said they even almost cried when I came on stage for Countess Cathleen. It can be quite emotional for close friends and family to come and watch me in the show because they know what a dream come true it is for me to be dancing this role! It was so nice to have them there in the audience.
Wednesday the 6th of October, we were on our way to Zurich, Switzerland. It was short stop in Zurich with only four shows in three days. We opened on Thursday night. The audiences were great in Zurich. It was a huge venue for about 4000 people and we were packed at each show. I danced the lead at the Saturday matinee with Joe Moriarty. We had a great show…no worries….until the finale when my costume opened! Ahhhh! I danced out for my finale solo and just as I jumped into a big spin in the air the zipper at the back of my top broke and opened all the way up the the top. I was worried my whole top might fall off, but luckily it held on and I think my very long hair managed to do the trick in making my little costume malfunction not too obvious to the audience! Joe tried his best to hide my back from the audience as we took our final bows. Things like that are all part of the fun of performing live. You never know what might happen, and you just have to go with the flow!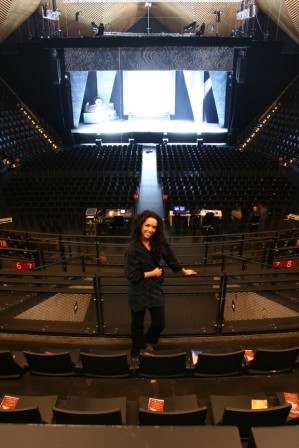 From Zurich we headed to Germany's capital city, Berlin. We were playing at The Tempodrom which was a lovely venue with a bit of a circus tent-like feeling inside with its high, pointed ceilings. We had an extra long week there, performing 9 shows as opposed to our usual 8 shows in a week. It was a great city to have an extra day in as there was a lot to see and learn about with all the history there. We opened on Monday night and my first show as lead was on Thursday night with Joe. Normally the leads get rotated around and our partners are always changing. It's great like that because it is nice for us all to have a chance to dance with each other at times. It always makes for a slightly different feeling each time we do the show. That night was a lot of fun because there were some other Riverdance dancers there to watch the show! Some of the dancers who are not on tour at the moment were in Berlin to dance on a German television programme that weekend, so they came in to watch the show. It was nice to be performing for our friends….but we also knew there was no room for error with the experts watching! Hopefully they weren't too critical of us all!
Deirdre