Beijing and Xi'an before the 2008 Olympic Games
August 11, 2008
Kevin Horton, Dancer, Corrib Company
July and August 2008
With a great week off under our belt, it was time to get back to business and finish our last two weeks of tour.  Beijing has a great number of activities and sites to take in.  I am pretty sure I had my camera glued to my hand the entire stay here.  The 2008 Summer Olympic Games are being held in Beijing this year, and it's a shame that we are not around for the opening ceremonies, but it's an honor that Riverdance is being considered as a precursor to the Olympics.  Ireland is proud to be part of such a prestigious event and what better than to have Riverdance help bring Ireland to the Olympics.
We did manage to have an additional two days off before opening night due to customs problems with the set being shipped from Japan.  This does not surprise me as the security in the lot of Beijing was very high in preparation for the Olympics.  During these extra days off, I was able to partake in one of the coolest things I have ever done.  A group of 11 cast members ventured on a 2-day, 8km hike of an unrestored section of the Great Wall of China.  We began at a family's house that was located in a small village just below the wall about 2 hours outside of greater Beijing.  The family, who spoke no English, showed us how to make dumplings.  We rolled the dough, put in the ingredients and folded up the dumplings to be put in the fire cooker.  Our tour guide/translator told us this is what would typically be eaten on a normal basis for this family.  After our homemade feast, we ventured two hours up a mountain to the wall for the first bit of our hike.  The hills were steep and many lose rocks and boulders made it a difficult climb, but it was all worth it for the unbelievable view we received at the top.  This section of the Great Wall is closed to tourists, so it was a treat to be able to see such a huge part of history up close without so many people in the way.  After making our way to the campsite and setting up, we all sat on top of a crumbling tower to watch the sunset.  This is one of the most beautiful things I have ever witnessed, something never to be forgotten.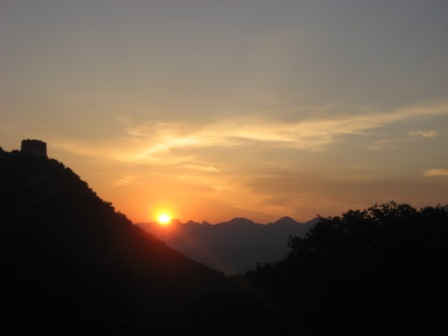 We woke to watch the sunrise and continued our hike along the wall.  A section we came to contained no sides and shrubbery in the middle, so "walking the plank" along the edge was the way to go.  Also, there was a long drop to the left and many loose rocks, it was scary to say the least and we had to be very careful.  After our treacherous descent down the final unrestored section, we made it to the touristy area.  No doubt they were wondering why we were drenched in sweat and carrying camping essentials; as if having red hair in China didn't get me enough stares, ha!  I am extremely glad that we all enjoyed ourselves so much, this was a great experience and I would definitely do it again if I had the opportunity.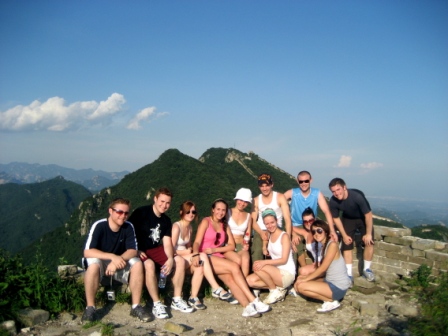 It was great to be back to the hotel and meet up with the rest of the cast.  The evening was spent finding out how the rest of the cast enjoyed their week off.  For those who stayed in Beijing during this time, they were able to see many parts of the city.  The Beijing Zoo has one of the largest Pandas in Asia, so that was a great site to see.  The zoo boasts of many rare and exotic animals of China.  Other than the Giant Panda, the White-nosed deer, Sichuan golden snub-nosed monkeys, and Manchurian tigers were just among the many species the zoo offers.  Also, there are beautiful gardens with aged trees and traditional Chinese flowers.  The Forbidden City was another great piece of history.  The Forbidden City is the Chinese imperial palace from the mid-Ming Dynasty to the end of the Sing Dynasty and it is located just next to Tiananmen Square, which is one of the biggest squares in the World.  The square itself is massive and leads up to the grand door entrance of the city.  The city contains shrines, imperial quarters, old traditional Chinese decor, and beautiful gardens.  I visited the city for over 2 hours and didn't get to see everything; I don't think you are able to see everything!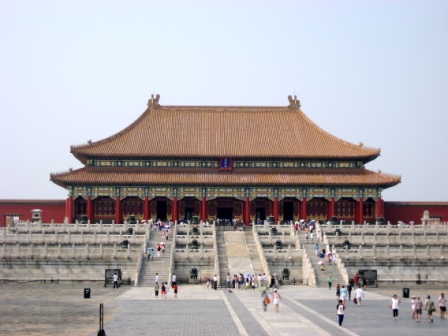 Another great area to see was the Summer Palace.  The Palace, located on Longevity Hill is listed on the UNESCO World Heritage List, and is a "masterpiece of Chinese landscape and garden design."  The grounds cover 2.9km, most of which is water.  The hills, waters, palaces, and temples made for a peaceful stroll before the hectic pace of opening day in Beijing.  Sometimes, it is fun to play tourist while on tour and take in the natural and man-made beauties of each different city.
Opening night went very well.  We sold out for the entire week in Beijing and there was great energy among the cast.  In attendance to the show were the Irish Ambassador of China and the Irish Olympic Boxing team.  They took time out from their vigorous schedules and were able to see the show and meet the cast afterwards.  Also, our Executive Producer, Julian Erskine, was in town.  There was an opening night party with food and drink and all were invited.  Demand for tickets was high, so an extra matinee was added, which sold out in about and hour and a half.  It was a great way to open the show in China.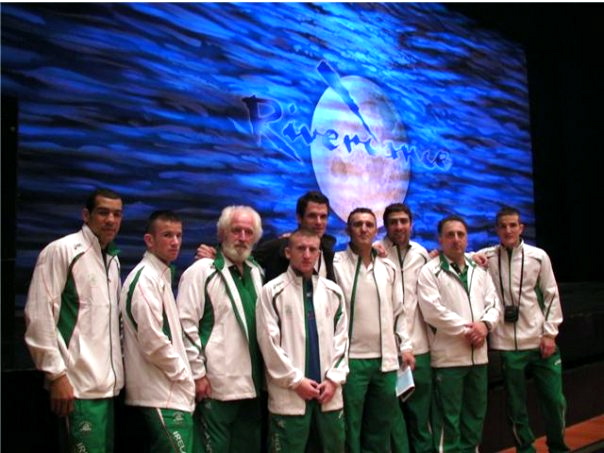 Our time in Beijing was very fast paced, so it came as no surprise that our last week of tour in Xi'an was spent relaxing.  There were still some great sites to see in Xi'an, and one of the more popular with the cast was the Terracotta Soldiers.  There is an area of Xi'an that was discovered in 1974 by farmers that contains thousands of figures.  The terracotta figures date back to 210 BC and are the warriors and horses of Shi Huang Di, the first Emperor of China.  They are the symbols of funerary art for those killed during the Emperors reign.  It was an unbelievable site to see all of these restored statues honoring what they fought for.  The statues are encased in several buildings that were built surrounding the original resting place for the statues.  By not having to initially move the statues this made for easier restoration.
Every night, right in front of our hotel, there was a family that carried, literally, an entire restaurant on the back of bicycles.  We called the restaurant, "street meat," because of its mobility and mysteriousness of its meat.  Towards the end of the week, most of the cast liked to gather at this makeshift restaurant and relax after the show.  I am not entirely sure that the meat was chicken or pork, but I'd like to take their word for it.  I will tell you though that my stomach is still mad at me!  There was also an area of Xi'an called South Street.  There were many bars and restaurants that lined the street.  They had retractable walls with seating outside and lights in all of the trees and it made the nightlife more interesting.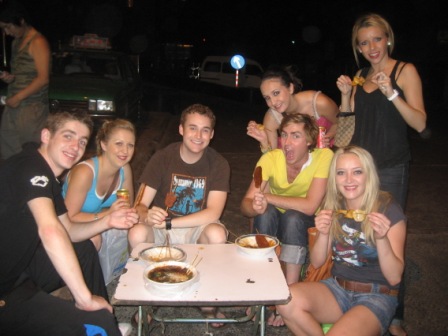 It is always hard to say good bye at the end of a tour, especially one that has been so amazing.  This group of people is one of the best I have ever worked with.  It was especially hard for three individual cast members.  Siobahan Manson, Jason Oremus, and Damian O'Neil are hanging up their dancing shoes and moving on to other things.  It has been a pleasure to work with them and I hope them the best in their future endeavors.  The rest of the week was spent in preparation for going home.  Boxes were sent home to avoid overweight luggage fees, last minute souvenirs were purchased, and then it was time to say our goodbyes.  I have really enjoyed writing these diaries and spending so much time emerged in such a different culture than what I am used to.  I am returning home with many memories and great friendships.
Take care and I hope to talk to you all again soon…next stop for this company will be Taiwan in December!