Riverdance – Last stop Japan and a well deserved week off!
August 5, 2008
Kevin Horton, Dancer, Corrib Company
It was hard to believe that we reached our final city in Japan, but Osaka was a great place to end our run in this wonderful country.  Osaka is often dubbed the second city of Japan and boasts of a population in its metropolitan area of 17.2 million people.  It was a switch to be back in such a large city after our split weeks, but a good one at that.  The theatre was located directly across the river from the hotel and there were many shops and restaurants in the vicinity.  In the opposite direction of the theatre was a great district of small bars, restaurants, and novelty shops.  One night, we visited the local Irish Bar, Temple Bar, and received a warm welcome from the staff.  With barely enough room for the bar stools, this tiny pub contained memorabilia from Riverdance's past visitors over the years and the walls were covered with photos and signed posters.  The owner even played the Riverdance DVD on the TV!  With a few more signed posters, we were able to add to his collection with our company.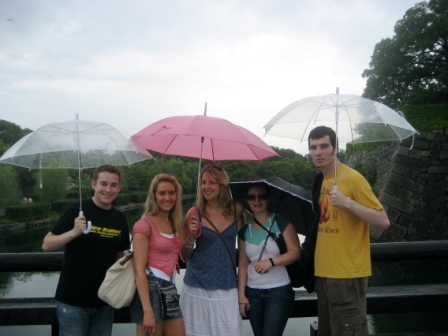 Other than eating and shopping, there was plenty to see in Osaka.  Against Mother Nature's advice, a group of us ventured to Osaka Castle to take in the sites.  As soon as we set foot on the grounds, it began raining…a lot!  We purchased some umbrellas from a very nice shop keeper and continued through the grounds to the castle.  It reminded me of the castle in Nagoya, yet still is a great site to be seen.  As luck would have it, the next day was gorgeous.  It was a perfect day for cycling around the city.  A group of us decided to rent bicycles, pack up a picnic and cycle to a park.  We did not intend to get lost, yet somehow we ended up back on the grounds of Osaka Castle about 45 minutes later (while dodging pedestrians on the street, cycling in Japan is a great adventure in itself) and enjoyed our picnic before cycling back to the hotel to get ready for the show.  It's funny, I haven't enjoyed cycling this much since I was about 12 years old…tour keeps us young!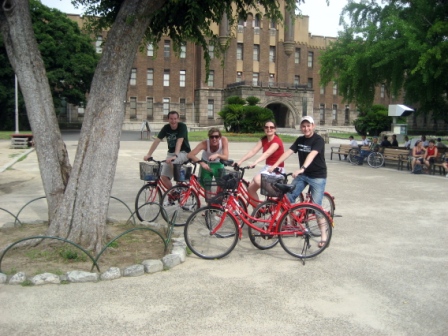 Kyoto was not very far from Osaka and just outside of Kyoto was a great district where the famous Geisha were to be spotted.  Geisha are female, traditional Japanese entertainers, whose skills include performing Japanese arts, such as music and dance.  In order to catch a glimpse of one of them, we were waiting on side streets of a particular neighborhood waiting for them to emerge from different buildings where they were entertaining.  They really did not enjoy tourists taking pictures of them and they would run away if we approached.  We were saying how we felt like the modern day paparazzi while waiting outside buildings just for the possible photo of a celebrity, a Geisha!  We did get a few photos, but hopefully they were not too annoyed at our persistence.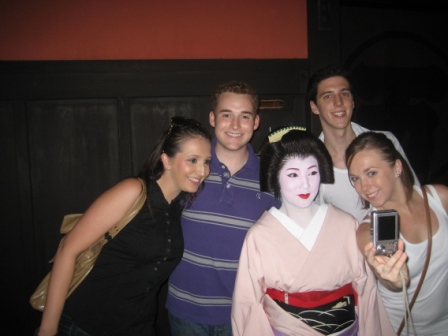 I had mentioned in my entry from Tokyo how one of our lead dancers, Jason Oremus, had to do a final curtain call because the audience would not leave the auditorium.  Well, at our final show in Osaka, it happened again.  After about 5-10 minutes of continuous clapping, the audience was graced with an additional bow from Jason, after the entire company had already left the stage.  The audience was very appreciative for this additional bow to end what has been a very successful 9-week run in Japan.  It was a great way to end Osaka and certainly a great way to end our time in Japan.  Sadly, we had to say goodbye to two of our principal dancers, Joe Moriarty and Carla O'Brien, due to prior commitments.  Audiences all across Japan have enjoyed their performances tremendously and they will certainly be missed by the entire company.  When we begin in China, Craig Ashurst and Christina Havlin will join the company for our final two weeks of tour.  To Joe and Carla, good luck in all of your future endeavors and we hope to see you again.
On to China!
Since the set must be shipped to China and there is a plethora of security for the upcoming Olympic Games in Beijing, we were pleased to have a week off.  Due to our Chinese visas, we were not able to leave China, so the cast found many things to do within this massive country.  Sanya Paradise and a beach resort was an option some cast members chose, while staying in Beijing for the entire two weeks was another.   Some traveled along a section of the Great Wall for a few days, and others took the opportunity to train with the Shaolin monks, in a traditional grueling fashion of 10k runs and martial arts training.  I, on the other hand, opted with the group of cast members who headed for Dalian, which is a metropolitan city about 10 hours south of Beijing.  The hotel was beautiful and the town offered many sites and activities.  There were 14 beaches in Dalian, an Ocean Park with rides and a Zip-line through the forest and over a river, which we had to try of course, a massive castle in the middle of town that was lit up at night, a huge festival in the town center with great food, music, and drinks, and much more to explore.  To get to Dalian, some of us opted for a train ride of 10 hours.  The train had sleeper cars, but we were surprised to find out the beds were not enclosed in compartments, yet open to the entire train car.  It was an interesting ride to say the least and by the end of the 10 hours, we were ready to be off of that train.  It's safe to say we enjoyed the 1 hour flight back to Beijing at the end of the week!  I am really glad we decided to travel to Dalian, I suggest it if you are ever in China.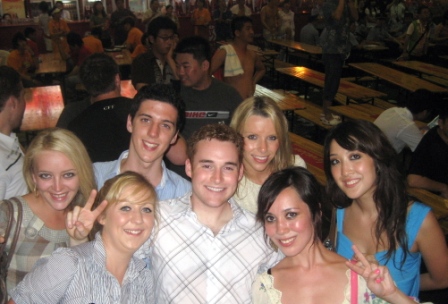 It was a great week off, but it was time for the cast to travel back to Beijing for opening night.  The rest and relaxation was just enough and it was time to get back to work.  I can't wait to see what Beijing has to offer.  Until next time…