Riverdance – Four Fast-Paced Cities in 2 weeks!
July 12, 2008
Kevin Horton, Dancer, Corrib Company
With a few of Japan's major cities under our belt the company ventured to four cities in two weeks and each city that we visited had its own character to set it apart from the others.  A common thing that we have seen so far this tour has been canals and rivers flowing throughout each city and these two weeks were not any different.
The first stop we made was to Niigata.  Not small by any standards, Niigata boasts of almost one million people and has long been known as a port town.  Since it is located on the coast, there was a great beach near the hotel where many of the cast spent their afternoons off.  The hotel was located along a river front and renting bicycles was a great way to see a large part of the city.  Dodging pedestrians along the city streets was another challenge and I am sure some residents got a fright here and there!  Our time is Niigata was limited and we moved on to Toyama on the Thursday.  Our last night in Niigata, however, we did manage to organize a night out on the riverfront.  Almost the entire cast gathered in the grass on the river behind the hotel to chat amongst each other and enjoy our last night in Niigata.  Dancer Aisling Drennan brought her guitar and a sing-song broke out into the wee hours of the morning.  Our early morning travel snuck up on us very quickly and soon we were on the bullet train to Toyama for the weekend.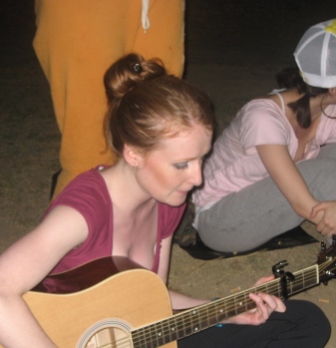 Toyama is on the smaller side, well smaller in regards to the cities we have already been to, there are still about 500,000 people in the Toyama prefecture.  We did not have much time here to take in the sites, but we did have the Friday afternoon to check out the surrounding area restaurants and scenery.  On the Saturday, we only had a matinee, so this left the evening free.  There was a canal near the hotel that offered river rides through the city.  A group of us decided to try it out and were pleasantly surprised by the architecture and shrines that lined the river.  It was a great way to spend the afternoon off.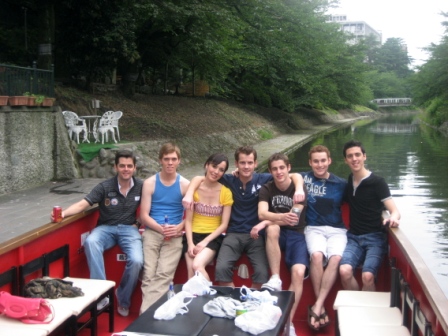 That same afternoon, some of the cast opted to see one of the more famous sites of Japan.  At the foot of the Kureha Hills, lies the "Hill of 500 Buddhas."  An amazing site, the hill boasts of more than 500 mini-statues of rakan, followers of the Buddha, arranged on the hillside behind the main temple.  Two dancers who made the trip, Patrick Coyne and Ciaran Connelly, both agreed on the amount of surreal tranquility and peace that was given off from the hills.  For such a short time in Toyama, good times were had by all.  Then, it was on to Fukuoka.
Fukuoka was a quick stop for us; we were only in this city for 4 days.  With 2.5 million people, Fukuoka is by no means small and is one of the more industrialized cities in Japan.  Keeping up with the canal obsession of the past few weeks, there is a district that is called Canal City near city center.  There are many restaurants and tiny shops that line the canal and it makes for a great place to spend time with friends and relax.  One night in particular, most of the cast enjoyed a night at a restaurant over looking Canal City.  Fancy drinks, crazy lights and chilled-out music made for a really relaxing evening.  There was also a really great place called Kilroy's right near the hotel, which many of us adjourned to after most of the shows in Fukuoka.  Even though our time in this place was short as well, this company is always able to find a bit of fun.
The last stop for the split weeks was Kurishiki, which happens to be close to Hiroshima.  Hiroshima is most known for its involvement in World War II as the drop site for the Atomic Bomb.  The A-bomb detonated before it reached the ground, left total devastation, and over 80,000 lives were taken instantly.  One building to survive the blast, which is now known as Atomic Bomb Dome, was restored and still stands as a memorial to those who lost their lives.  There is also a very moving Museum that pays great tribute to the victims.  I highly recommend seeing this museum; it is a very emotional experience.  If you are visiting Hiroshima, Miyajima Island is a great place to spend an afternoon.  It is only a 30-minute boat trip off the coast of Hiroshima and contains many shrines and tiny shops and restaurants.  There are very friendly deer that just roam around the streets, but don't feed them because they will follow you around.  We found this out the hard way!  It was a very peaceful way to spend a day off, and by far one of the best for me.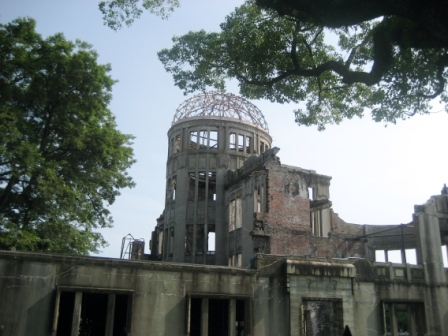 Kurishiki was a very short visit as well and we only were able to stay for a 4-show weekend.  I was really impressed with the Traditional Japanese feel of the town, there were many shops and old architecture styles, and vendors sat along a canal that flowed through the center of town.  Not much was done during our weekend visit as the performances took up most of our time.  However, sometimes on tour it is nice to just sit back and relax in a not-so-hectic place.
Our next stop is Osaka.  Only one week left in Japan…