Riverdance Troupe dance across Ha'penny bridge in Dublin!
June 7, 2005
Tuesday June 7th dawned warm and sunny in Dublin which was lucky as the Riverdance troupe planned to dance across the famous Ha'penny Bridge in Dublin for the press and public. The dancers were heading to the river Liffey to promote the return of Riverdance to the Gaiety Theatre Dublin this summer.
After rushing across the road and onto the bridge the dance captain Scott Porter soon had everyone in line and dancing those familiar steps!
Pedestrians on the busy bridge were pleased to watch and take photos of this unusual event. One of them even joined in the fun! Phyllis Dunne an 84 year old native Dubliner did a spritely dance in front of the assembled cameramen and troupe members much to everyone's delight.
After pounding the bridge's surface with their hardshoes the dancers headed to the nearby wooden boardwalk for some more photos and interviews.
Riverdance plays at the Gaiety Theatre Dublin this June, July and August. Ticket information (01) 677 1717 or visit www.ticketmaster.ie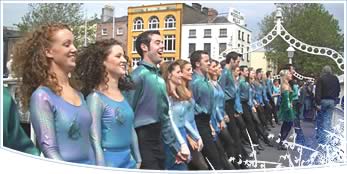 The Foyle company dance across the famous Ha'penny bridge in Dublin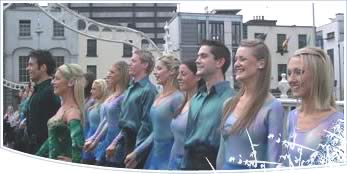 The dancers smile for the cameras and assembled crowds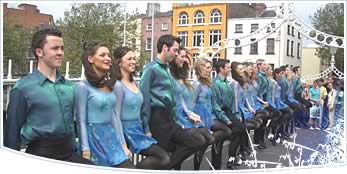 Tourists were only too delighted to be treated to a free sample of Riverdance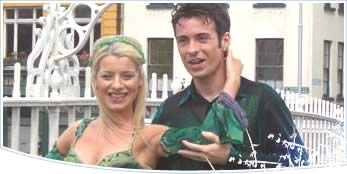 Lead dancers Padraic Moyles and Melissa Convery pose for the cameras.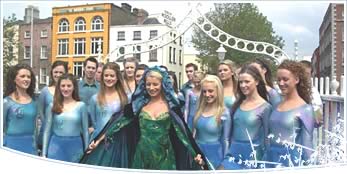 Melissa dons the Riverdance cloak for photos with the Riverdance troupe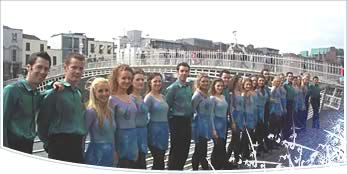 The troupe line up on the boardwalk with the Ha'penny bridge in the background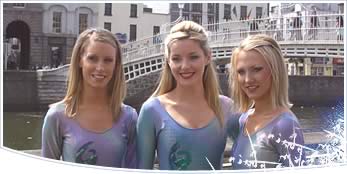 Riverdancer Laura Mulligan, Flying Squad dancer Dearbhla Lennon and new Riverdance recruit Nicola Byrne.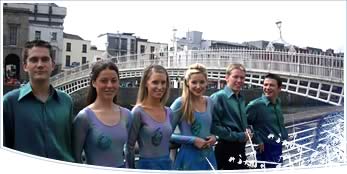 Troupe members Craig Ashurst, Geraldine Reidy, Laura Mulligan, Dearbhla Lennon, Anthony Sharkey and Scott Porter on the Boardwalk