Miss Iowa to 'Riverdance' on Miss America!
June 11, 2005
On June 11th, 2005, Irish Step dancer and reigning Miss Muscatine, Kay Pauszek was crowned Miss Iowa at North Scott High School in Eldridge, IA. For her talent, Kay performed a modern Irish dance to the "Hornpipe Tipping Reel."
Kay will be competing for the title of Miss America this January 2006. She will be performing the same talent that she won the title of Miss Iowa with, but this time will be wearing an authentic Riverdance costume, loaned to her by Abhann Productions, the producers of Riverdance. The spectacular handmade costume will surely be a special addition to Kay's performance!
Kay also attended a Riverdance show in Waukegon, Illinois on November 30th. Kay said that so far this has been one of the highlights of her year as Miss Iowa. Kay would also like to thank Riverdance for all of the support they have given her in the last 6 months with the costume and appearance in Waukegon.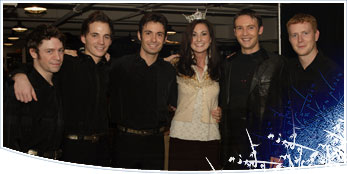 Photo: Miss Iowa Kay Pauszek backstage with the Thunderstorm boys after attending Riverdance. Left to Right: David Bellwood, Mark O'Loughlin, Padraic Moyles, Kay, Michael Eustace, Oisín McQuoid
Miss America preliminary competition starts on Tuesday, January 17th and will culminate in the crowning of Miss America 2006 live on CMT on Saturday, January 21st at 7pm.
Be sure to tune into CMT on Saturday, January 21st to see if Miss Iowa 2005, Kay Pauszek will be crowned the new Miss America.