Special Olympics World Games Opening Ceremony 21st June 2003
June 21, 2003
There is always a lot of waiting around involved in these events. Some passed their time watching bands like The Corrs rehearsing for later that night. There was lots of catching up between old Riverdance friends and even a baby or two to introduce! Finally we could hear the noise from the crowds in the stands and the tunnels on either side of the stadium began to be filled with colourful delegations of athletes and coaches from around the world.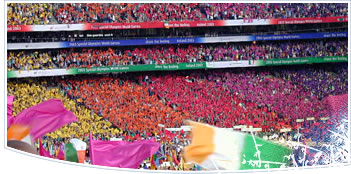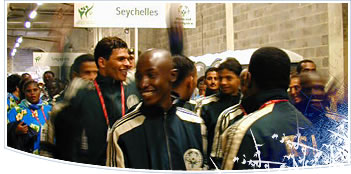 Many of the Riverdance contingent stood outside their dressing room in the tunnel to cheer on the athletes passing by. There was a great atmosphere as many athletes had their photos taken with Riverdancers and high fives became the order of the day.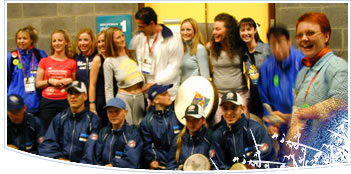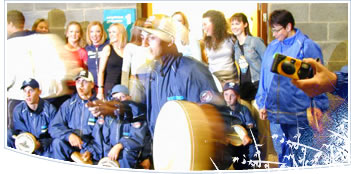 The evening went like clockwork and the entertainment just got better and better with theatrical pieces from Macnas and the Open Arts group while a host of pop bands such as The Corrs and Ronan Keating got participants dancing.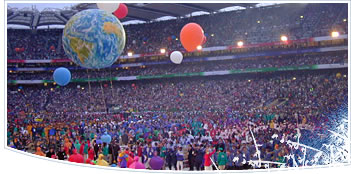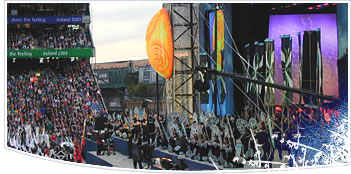 Light was beginning to fade at ten o' clock when Pierce Brosnan came on stage to introduce Jean Butler, the original Riverdance lead, who in turn introduced the Riverdance performance. Then Lynn Hillary's beautiful voice filled the venue as Cloudsong began.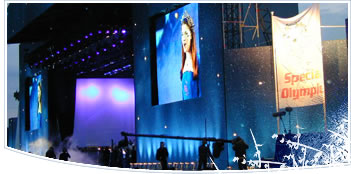 The Riverdance performance dazzled in the evening light as Breandán and Joanne commanded the huge stage. The sheer volume of dancers thrilled the audience as more and more arrived until 100 dancers were lined up. Audience members were in the aisles dancing to the music. 7 minutes goes fast and soon the dancers were filing offstage to a standing ovation and the giant screens were showing Joanne's smiling face. Next up U2! It was an amazing night and there was no doubt that all were delighted to have been involved.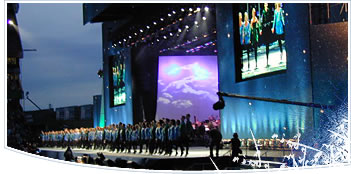 Rehearsals for the Opening Ceremony of the Special Olympics
<
Riverdance tap into the holiday feeling at Marshall Field's
>