Riverdance inspires poetry
September 7, 2001
In September 2001 the Riverdance Flying Squad performed in the Royal Hospital Kilmainham, Dublin at the request of the Irish Government. The audience included both Irish and Chinese dignitaries led by H.E. Premier Zhu Rongji and Madame Lao An of China.
The hour-long performance, featuring Eileen Martin and Martin Brennan as principal dancers, featured many highlights from the show and was well received by the enthusiastic audience.
The outgoing Ambassador to Ireland from the People's Republic of China, H. E. Ambassador Zhang Xiaokang recently sent a letter of thanks to John McColgan and Moya Doherty. Along with this letter she included a poem written immediately after the performance by Minister Sun Jiazheng, the cultural minister of China, who was so moved by the performance that 'a poem flowed out from the deep of his heart'.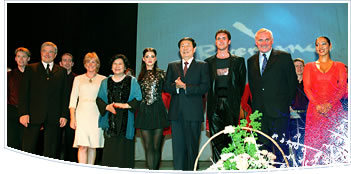 Pictured Left to Right
John McColgan, Celia Larkin, Madame Lao An, Eileen Martin, H.E. Premier Zhu Rongji, Martin Brennan, Bertie Ahern, Rosa Manzano Jimenez
A Rolling River
Sun Jiazheng
Minister of Culture, People's Republic of China
The music is murmuring an old story,
And the beats are stirring our emotion.
Transformed into the energetic dancing steps
Is the history of a great nation.
Tinkling like the gentle spring,
Roaring like the fierce thunderstorm,
The vehemence comes with heavy grief,
But never caught in despair and petty gloom.
Men and women grow year after year,
For generations, dreaming and struggling,
Even when they are scattered over a new world,
Here, still is the home of their yearning.
Moving from the dawn of history,
And heading with the defiant resolution,
The river rolls on and on, alas, a great river,
Like the striving soul of a great nation.
Sept 2. 2001 Dublin