Fastest Feet – Michael Patrick Gallagher
February 13, 2002
FAST FEET – and RIVERDANCE – have become synonymous. When the call came in from Time Warner Cable's Road Runner High Speed Internet Service searching for the "fastest feet" for their new series of US television commercials, we knew Michael Pat was the one! Time Warner Cable is one of the major cable television companies providing service across the US. They also provide high speed internet service to their customers.

The first draft of the story board arrives via email. It shows, frame by frame, what the concept of the commercial is and what Michael Pat will be doing. On the left are "stage directions". On the right the "copy" for the announcer to record.
Wednesday, February 12: Michael Pat packs his dance shoes and leaves Gainesville, Florida and the Lagan company, and heads for New York…the Big frozen Apple as it's now fondly called.
The commercial shoot is scheduled for early Thursday morning so Wednesday evening is spent sightseeing on Fifth Avenue, shopping at Banana Republic and a lovely dinner at a popular new Spanish restaurant on Broadway called Noche. Rosa Manzano Jiménez would love it! An early night.
Thursday, February 13: A car comes for us at 6:40 AM! We are driven to a questionable street in an industrial area of Manhattan full of old warehouses. Once we enter the dilapidated building, we are amazed to see a bright, high tech lobby. We arrive on the 14th floor to find an enormous studio, all white, with wall-to-wall windows….and a breathtaking view of the Hudson River. Michael Pat gets his camera out.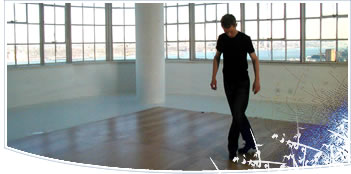 It's 7:00 AM. Equipment everywhere, crew and technicians scurry about. Time for breakfast. Michael Pat is amazed at how many people are working on this shoot to create a 30-second TV commercial: make-up, wardrobe, director, assistant director, producers, camera operators, sound, lighting, props, catering etc. There's a problem. The floor Michael Pat will be dancing on has buckled. Everyone gathers to look. Problem solved. The floor is turned over and strapped together. Michael Pat puts on his dance shoes to test the floor. All is well.
Time for make-up, wardrobe and rehearsal. The first set is comprised of the dance floor in front of all these windows and spectacular natural light. Michael
Pat will be dancing at his fastest speed….20 seconds of music from "Heartland"… as the camera films his every move. This goes so well that after only a few rehearsals, they do "a take." "Quiet on the set" someone shouts. The studio door is locked and guarded from the outside. "Take 1". Music and Michael Pat begin. He's tapping furiously, leaping and kicking. I watch what they are filming on a tiny TV monitor. The sight of him in the air silhouetted by the natural light outside is stunning. The last "take" is played back for Michael Pat. Everyone loves it. It's a keeper.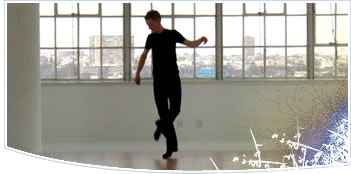 Everyone takes a short break while the crew sets up a circular track for the camera in the center of the dance floor. The make-up artist tends to Michael Pat.
It's about 10AM. A few rehearsals then a "take." Michael Pat dances in place at lightning speed as the camera (with cameraman and director on board) circles around him, filming him from all sides. Terrific shot.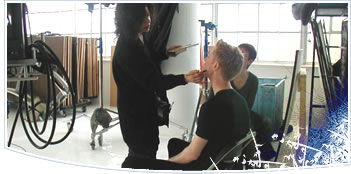 Another short break as the crew sets up another shot. This time, they bring in a piece of clear plexi-glass and set it up as a very high table. Michael Pat whispers "I think they want me to dance on that!" This is news to us. It was not in the original concept for the TV commercial. After discussions with the director, we go ahead, once Michael Pat has been sure to tape the soles of his dance shoes. The camera is positioned underneath "the table". How they squeezed 4 people in that tiny space is a mystery. Michael Pat gets up atop the plexi-glass. The idea is to have the camera looking up through the floor. Michael Pat pounds in place. The plexi-glass rumbles. All of us were positioned around him…just in case. I am frozen. He finishes with a flourish. Phew. We can breathe again.
The crew sets up Michael Pat's "TV apartment." Brightly colored sofa, chair and flowers in the background; computer workstation in the foreground. They run footage of the Irish Dance Troupe performing "Heartland" on a monitor. This footage will ultimately be seen on Michael Pat's computer screen in the final commercial. They film him dancing his way over to the computer.
1:15 PM. Everyone breaks for lunch. So much has been accomplished. The crew sets up the final shot. Michael Pat rehearses "tapping the mouse" with his finger. Close-up on his finger and the mouse. Even his hands had make-up for this shot!
Michael Pat is a natural. The director says "it's a wrap." Everyone on the set congratulates Michael Pat and express their amazement.
We say our good-byes and head uptown.
Now the director's job is to combine all these different shots into a fast-paced commercial. As this is a series of 3 commercials, they also filmed spots with Bobby Badfingers, the fastest finger-snapper and Debbie Rice, the fastest in-line skater (at 61mph!).
These commercials are scheduled to air on Time Warner Cable Television (US).
By Merle Frimark
Riverdance North American Press Representative