24 hours of continuous dance in Dublin
July 21, 2016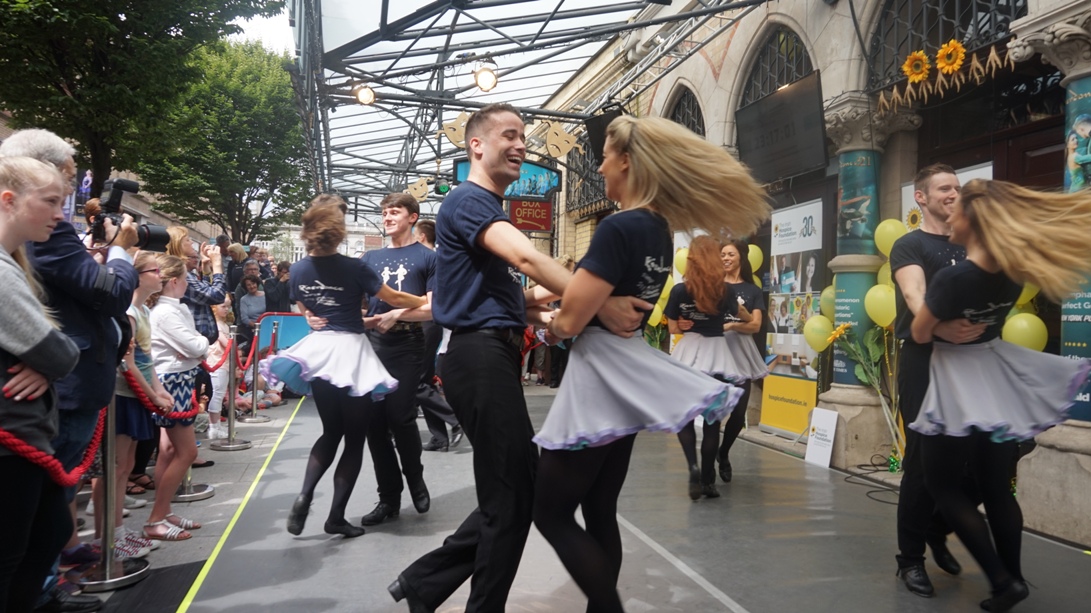 Riverdance hosts  24 hours of Irish Dance in aid of the Irish Hospice Foundation outside Dublin's Gaiety Theatre.
The DanceAthon began at 12 noon on Thursday 21 July, when it was kicked off by members of the Riverdance troupe. Almost all the dance numbers from the show were performed for a delighted audience who gathered around the plaza in the Dublin sunshine. As the minutes then hours ticked by, Riverdancers from the show and dancers from a number of dance schools around the country took to the outdoor stage for charity.

Donate on idonate.ie

Every dancer from the professional dancers with Riverdance to teachers and dancers in each of the dance schools gave their time generously to support this great charity. The dance schools who took part included Scoil Rince Órla Nic Conuladh , Feely Bates Academy, Callanan School of Irish Dance, Clarke Goodman Academy , The Zara Curtis Academy of Irish dance , Scoil Rince Seoige, Mc Gee School, Hennessey-Mc Veigh School of Irish Dance, The Emerald Lakes Academy of Irish Dance, Doherty Kendrick Dance Academy and Maher Byrne school of Irish Dance.
There was also a special performance by the Gardiner brothers and Riverdance Lead Dancer Lauren Smyths Festival Slip Jig.
Volunteers from the Irish Hospice Foundation have been there throughout to encourage passersby to join in the dance (which many did!) and to collect donations. Those unable to get to the Gaiety could watch updates from the event as it unfolded on line using the hashtags #Riverdance #DanceAthon and donate online at www.idonate.ie/riverdance-danceathon
It's Not Good Bye, Just See You Later!
<
The dance continues into the night
>