Dance with Ireland, Tour for Riverdance
April 10, 2015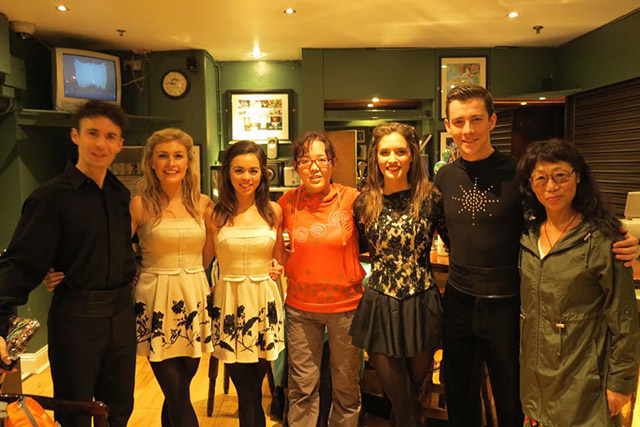 Think of Ireland, and what do you think of? The island's rich green landscape? Guinness? For me, of course, it must be… Riverdance! After seven years of tap dance lessons, which were eagerly pursued despite the opposition of bewildered family members, 2014 was the year this amateur finally got to visit the home of Riverdance.
I first met the show's director, John MColgan in the autumn of 2013 at an event. I can still remember how excited I was at the time. Then, during the Spring Festival of 2014, ads for Riverdance Master Classes in Dublin appeared online. This was an amazing opportunity, but the date was fast approaching and I was anxious…would three weeks be enough to get my paperwork in order? After consulting the show's background staff, I knew it wouldn't. I was heartbroken. My dance dream would have to wait a while longer. But my interest had been piqued, I had to get closer to the Riverdance experience in its birthplace, and know real Celtic culture. Ms Liu, our classes longest standing pupil, shared my new found enthusiasm. After the Spring Festival we prepared our documents and applied for a visa. Before our papers came back and our flights were booked, we were extended an official invitation to Dublin by none other than Riverdance's Senior Executive Producer, Julian Erskine. To put it mildly, this was a pleasant surprise.
So, on June 27th Ms Liu (a fluent English speaker) and I (with my primary school English), landed at Dublin airport. This was our first time abroad. We breathed deeply, filling our lungs with the breath of Irish culture. Central Dublin was filled with posters celebrating Riverdance's 20th anniversary; one of my favourite male dancers was front and centre.
The Gaeity Theatre, just off Grafton Street, holds more than 140 years of history and cultural life in it's walls. Every year, dozens of theatre, dance, dramas and musicals are staged here, one such show is Riverdance.  The theatre's comfortable seats and elegant European style decoration are in stark contrast with the Chinese theatres I was used to. This would be the perfect place to see my favourite stage show.
As the show began, familiar music accompanied by a magnetic, deep male voice filled our ears. The Russian dance elements which have been mixed in since the show's inception, 20 years ago, really added to what was an already original experience. As the curtain fell, applause could be heard without end. Backstage, I finally met my favourite male and female lead dancers, who were very approachable. They even corrected our dance steps and promised further lessons the next time they toured China.
Some have pointed out that a Riverdance ticket in China can cost up to 1680 yuan, and that a fan visiting Ireland to see the show can expect to spend tens of thousands. Is it worth it? Personally, my experience goes beyond whether or not something was "worth" the money. I visited the country's most picturesque spots, many of which are instantly recognizable from films – the Cliffs of Moher, the famous port city of Cork, the ancient city of Waterford, with it's thousand years of history. Deep in my heart I felt Celtic wisdom, courage, life and love. I came to understand the tragic history of Irish wars, and how so many became destitute and homeless, forced to rebuild their homes after tragedy struck. It was stories such as these that rendered Riverdance so poignant, and elevated the classical dance drama, making it even more beautiful when I saw it for a second time before leaving Ireland. So I offer this as my last sentence and my message to the dancers. Riverdance is not only in my eyes, not just in my ears, it is deep in my heart.
Published in HuanYing Ireland