Goodbyes and Welcomes, UFOs and Tearooms
October 22, 2014
This week we said goodbye and good luck to both Lauren Smyth and Siobhan Manson. Each has a few weeks at home to rest before joining Riverdance's upcoming tour of China. We decided to turn a sad situation into a happy one, and had a games night to say goodbye! The company gathered in the lobby of our Bradford hotel to play a guessing game. Each company member was given the name of a famous person to stick on their head, and they had to guess who it was by asking yes or no questions. We had appearances by Beetlejuice, Marilyn Monroe and even Riverdance legend himself Padraic Moyles.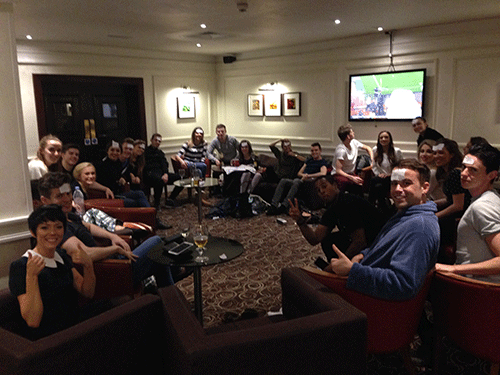 We also welcomed Julia Gats, our newest company member, all the way from Seattle, Washington. She's determined not to let distance take away her Seattle Seahawks pride, and can be found wearing their jersey around the theatre on game days!
In the heart of Bradford lies the National Media Museum, a modern space with nine floors of all things media – the first ever camera in Britain to exhibits on the latest advances in Internet technology.  It's here cast member James Keating made his BBC news television debut. He was patched in live from Bradford to BBC's London studio to speak about a UFO that had recently crash-landed in the area…I'm sure you've all heard about it!
The highlight of the week, however, was a group outing to York, a medieval city and hour east of Bradford. Our first stop was Bettys, a tearoom founded in 1936, where we had an amazing breakfast and of course…tea. Our day continued with a trip to Clifford's Tower, the last remaining piece of York Castle; York Minister, the biggest cathedral I've ever seen in my life and second in importance to only Canterbury; and Shambles St., the most visited street in Europe and something straight out of a Harry Potter movie. Follow this link to see all the pictures from the outing.
Until next week…
Ryan
Blackpool - Laser tag to Lady Gaga
>