Dancer Blog with Peter Wilson
October 1, 2014
Week 4 was a busy week for the Liffey Co. as we split our time between the cities of Birmingham and Cardiff. As we arrived to Birmingham on our day off there was one place in particular the cast wanted to visit – the famous Bullring Shopping Centre. Multiple shopping bags later and it was showtime.
For the opening night show in Birmingham we welcomed Callum Spencer to the Liffey. Callum grew up not far from Birmingham and with 130+ supporters in the audience he was delighted to lead the show with Miss Emma Warren. The following night was equally as special as dancer Katie Hands also native to Birmingham had her family, friends and dancing teachers in the audience. Katie first watched Riverdance in the NIA many years ago and her dream came true to be performing for her loved ones in her home town.
'Cake during the interval' is something you will hear backstage at Riverdance when there is a birthday but this week we had three. Louise O'Sullivan, Gianna Petracic and Shaun Kelly all celebrated their birthdays and with a company our size the cake wasn't long disappearing.
This week a few of the company flew to Boston to perform with Riverdance and Heartbeat of Home at the iFest. The iFest was a celebration of Irish culture and the dancers performed open air concerts in the evening and had the opportunity to teach workshops for local Irish dancers.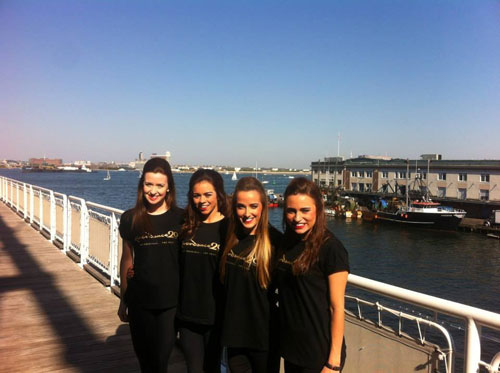 On Friday we all hopped on the bus to Cardiff for a weekend of shows. We performed 3 shows in the Motorpoint Arena. As we had no Matinee shows this weekend we had lots of time to check out this busy city. We visited the Millenium Stadium, Cardiff Bay and Cardiff Castle. This weekend in Cardiff Castle there was a country fair taking place. Ryan McCaffrey and I spent the afternoon having a look around the stalls of the local merchants and even visited the petting zoo.
This week we make the short journey to Bristol for 8 shows at the prestigious Hippodrome. Its going to be a big week for Lead dancer Bobby Hodges performing in his home tow. To keep up to date with our day-to-day activates on tour have a look at the Official Riverdance Facebook & Twitter.
Until next time
Sun, Sea & Hot air balloons..
<