A weekend in Paris
May 13, 2014
Hi everyone,
It's Sarah Woods reporting for duty! Sadly it was Meghan's last show with us the other day. She will be missed and I for one will miss her making me laugh constantly at the most random of things.We will stay in touch of course. One goodbye leads to another hello and this week we welcomed back lead dancer Alanna Mallon to the Liffey company.
This week we were in beautiful Paris. I have been lucky enough to visit Paris a number of times before but this was a first for many of the cast members. Quite a lot of the troupe had family members out to visit and Kincaid even had his parents out to visit all the way from Texas. We had a busy schedule with only one day off to explore the city as we had two shows Saturday and two shows Sunday but we all made the most of it. Everyone managed to go see the famous Eiffel tower during the day and got to see the lights twinkle at night time. It really is a spectacular show. The Arc de Triomphe, Sacre-Coeur and the Louvre all proved popular, some even managed to get a selfie with Mona Lisa herself and a walk down la plus belle avenue du monde (the most beautiful avenue in the world) the Champs Élysées which was a must!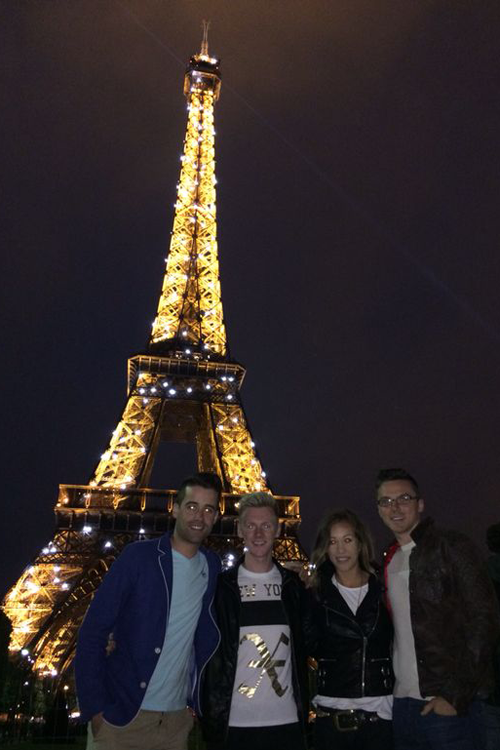 May is also a busy month for birthdays here in the Liffey, we celebrated Orlagh's birthday in Lyon last week and this week it was Ellen's turn. A great night was had by all.
We have been on the celebrity spotting front recently too. In our hotel this week there was a film crew staying in it. They were working on the film 'Are kind of Traitor' I got a little starstruck when I saw Damian Lewis sitting across from me while I was eating my cornflakes, haha. I plucked up the courage to ask him for a picture and he kindly agreed. We are now gearing up for a week of different towns and cities. I'm sure there will be plenty to share in my next blog.
Sarah
Celebrating Riverdance 20 with TV's Late Late Show
<
Paris in the Spring Time!
>