Riverdance – The Gathering comes to Dublin this July
March 20, 2013
Dubliner Niamh O'Connor holds the record for performing with Riverdance the longest; she's been touring with the famous show since the day it premiered in the capital city in 1995. This July, Niamh will (hopefully) be part of another Riverdance record and this time, she's inviting you along.
As part of Riverdance – The Gathering,  people – yes, that means you too – can put on their dancing shoes, line up along the banks of the River Liffey in Dublin and attempt to break the Guinness World Record for the Longest Riverdance Line, which was set in Nashville, USA, with 652 dancers.
All you have to do is learn a few simple steps and you can join Niamh, her husband Padraic Moyles – one of Riverdance's principal male dancers – and other stars from the show in attempting to break the record on 21 July. And if you're not up for step dancing along the quays, you're of course welcome to cheer on the others for what is sure to be a fun and historic day.
The record attempt is just one part of an exciting week of events for Riverdance – The Gathering. There will be a free family fun day at Merrion Square on 20 July, with face-painting  bouncy castles, food and plenty of music and dance. The day includes Riverdance – The Gathering Ceílí, led by the show's dancers and musicians. Then it concludes with a special live performance by the cream of Riverdance musicians playing to a big-screen backdrop of the show's highlights taken from recordings of in Dublin, New York, Geneva, and Beijing over its long history.
As for Niamh, she's particularly looking forward to the Gathering's series of Masterclasses, some of which she will teach. "Riverdance have never done this before, so it's an opportunity for other dancers to come and learn what we've learnt over the years and hopefully someday they will get to dance in Riverdance," she says.
"So, that's what I'm most excited about," she adds, "but of course it's going to be great craic at the weekend in Merrion Square. And if we break the record with the line, I haven't been part of one of those before, so that's another tick on my checklist as well."
Over the last 18 years, Niamh has travelled the world with Riverdance, performing throughout the US, Canada, Europe, South America and most recently, China. "Every tour, every night, it's a different audience," she says of her experience with the show. "It changes like that, so it's not the same show. Maybe physically it is, but there are so many other elements that come into it."
Though Niamh says she loves touring and bringing Irish dancing to people around the world, she always looks forward to coming back home and has performed in Dublin many times. The events of Riverdance – The Gathering are particularly special for her and husband Padraic Moyles, who was born in Ireland but moved to America with his family as a child.
"To be part of The Gathering, and especially Riverdance having this week, it's very close to me and Padraic," she explains."They emigrated when he was eight to New York. All of his family are coming home to take part in these events, as with a lot of families that we know that are coming. So, we're very glad to be part of it – to teach people about Riverdance, to show them, and just to give them that knowledge that you might never, ever get again. I'm glad that I'm part of that."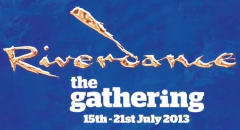 Riverdance – The Gathering is taking place in Dublin from 15 to 21 July.
Applications to be part of Riverdance – The Gathering Masterclass Series close on Friday 31 May Apply online for a place in this first-ever series or email masterclassgathering@riverdance.com.
If you'd like to participate in Riverdance – The Gathering World Record –  register your interest online or email recordgathering@riverdance.com.