Riverdance performs at testimonial for rugby star Brian O'Driscoll in London
March 20, 2013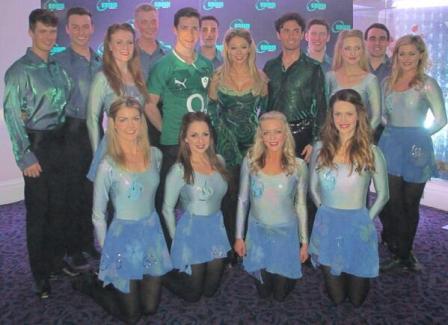 Riverdance were delighted and honoured to have been part of a testimonial dinner for rugby star Brian O'Driscoll at the Grosvenor House Hotel in London on 18th March.
Prince William was one of the 2,000 A-list guests from the worlds of sport, music, entertainment and business who gathered in the luxury Grosvenor Hotel for the special night in honour of Irelands greatest ever rugby player.
Other guests on the night included Michael Fassbender, Niall Horan from One Direction, Paul McGuinness, Bono and The Script singer Danny O'Donoghue. Also attending were Brian's teammates including Johnny Sexton, Rob Kearney, Cian Healy, Shane Horgan and Jamie Heaslip.
Patrick Kielty was MC and the other act performing was award-winning Scottish singer-songwriter Emeli Sande.
Julian Erskine, Riverdance senior executive producer, said "The night was really good for us. When we were asked months ago we were delighted and honoured and thrilled.
"To be involved in anything Irish and representing a cultural icon abroad made us very proud and happy to be here
"Being a couple of feet away from Prince William, Brian, Amy and Bono on the top table made it even more special"
Riverdance performer Padraic Moyles said that "Brian stood talking to all of us and said he was so grateful. And Bono said he absolutely loved our performance".