End of the line – Final Shows North America
July 3, 2012
Maeve Fearon, Dancer, Irish Dance Troupe, Shannon Company
It's bittersweet as I finish the last step in the last number of the last ever North American Riverdance show. Some 6,000 people are on their feet in the fantastic outdoor arena at WolfTrap, Vienna and boy has it been a long journey!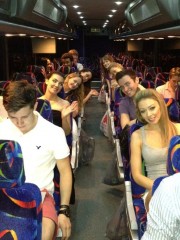 The last two weeks of tour were extremely busy. After the first of three bus journeys in the first week, we found ourselves in the heart of hip Montreal. We were staying in apartments for a few days and most of us bought groceries, enjoying the luxury of cooking our favourite foods. Montreal, one of my favourite cities of the tour was jam packed as preparations were underway for the famous "Grand Prix Montreal Weekend". I would have loved to experience it but unfortunately we had to move on. For our last Canadian show, we travelled a few hundred miles to Sydney, Nova Scotia. Sydney is situated on the east coast of Cape Breton Island. Luckily I stayed awake for the last hour of the journey as the scenery was outstanding. It also has a high population of irish people (one in four Nova Scotians are of Irish decent) and a nice little irish pub – the "Governors Pub" to boot.
I was delighted to be performing for my close family in Hartford, Conneticut on Wednesday. I had some free time in the afternoon so I got to visit them at their home in Enfield and I was very grateful for the lovely mug of tea waiting for me when I got there! With just one more show to go in Salisbury, Maryland, the countdown was well and truly on for the last weekend of tour.
My roommate Fiona and I went into overdrive obsessing about the weight of our suitcases. In fact, this was the general topic of discussion amongst us all, and we started our own little charity, compiling bundles of 'bus clothes' we had worn to death on the tour to give away.
With many dancers having ended USA tours at Wolftrap before, all of us were uber excited, particularly for the two huge malls beside our hotel. (Eek!!) With hair appointments booked and shopping trips to rival Kim Kardashian, some even rented cars and drove down on Thursday night. I decided it would be safer for my bank balance and arrived on the bus early Friday afternoon. With not much time to waste, I grabbed some food, window shopped in the amazing "Tysons Corner Mall" and caught the bus to the show.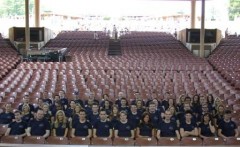 Wolftrap is an amazing outdoor venue with an auditorium and open lawn. As part of the show experience at WolfTrap, patrons are allowed to sit on the lawns and watch us warm up an hour and a half before the show. As we drove up towards the arena, the place was swarming with people laying their blankets out, sipping wine and eating their picnics in preparation for the show. With a quick make-up and hair fix, I headed for the stage. It was totally surreal having the audience there in broad daylight and with "Beyonce" and the like blasting, 'the craic was 90' as we warmed up together. Even more surreal was the fact that we could see everyone in the audience for the whole first half of the show.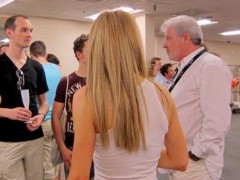 John McColgan, director of Riverdance was present for opening night and made a lovely speech at a champagne reception held afterwards before flying to Dublin for the "Electric Burma Concert".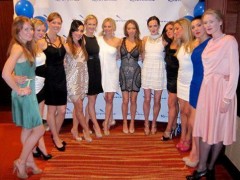 After our two shows on Saturday, we also had a fantastic closing party. With ice sculptures, and an impressive display of foods such as fresh seafood, our very own pasta chef and a "Ben&Jerrys" ice-cream counter, we were in our element. Our executive producer, Julian Erskine made a heartfelt speech thanking us all for our hard work and there were a few tears amongst us.
I made an early exit as I was preparing for my second performance of Trading Taps the following day.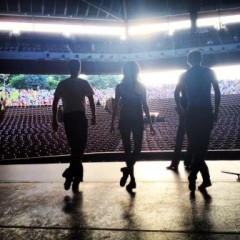 Once again, as we arrived hundreds of people were flocking to the lawns and we were totally energised for the show. We were given tour T-Shirts as a keepsake for the tour and the whole company gathered at 1pm for a photoshoot. Trading Taps was fantastic. Unlike other numbers, you really get to interact with the audience and since I was able to see them, it was even more enjoyable than my first performance.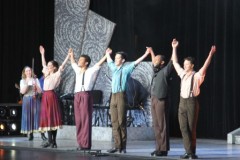 The venue put on a barbecue for us in between shows which was brilliant as we enjoyed hotdogs and burgers in the sun. James Greenan and I had also spent hours during the week preparing a 'tour video', a compilation of video footage and photos from the tour. We projected it onto a huge screen and once again there were a few tears as we got ready for the last show of the tour…and what a show it was!
VIDEO : Riverdance Final Nth American show Wolf Trap June 17, 2012 curtain call (video by Merle Frimark, Riverdance North American Marketing/Press Representative )
And so, after 29,500 miles and 133 shows in 27 states, we boarded a flight at Dulles International Airport on Monday night. We've had a fantastic few months and yes it has been exhausting at times but we've been in some amazing places, all whilst doing what we love!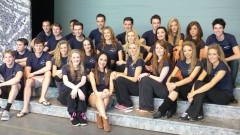 And so, we are back on home soil performing at the Gaiety Theatre for what promises to be a fantastic 10 weeks. It's always so enjoyable performing to a home crowd and I must say I think I will be avoiding the bus for a little while!
Thanks for reading.
Maeve x