St Louis – My first Trading Taps performance
June 10, 2012
Maeve Fearon, Dancer, Irish Dance Troupe, Shannon Company
It's hard to believe it's been two weeks since I've written anything but then again (And I know I always say this) it has been a rather eventful two weeks.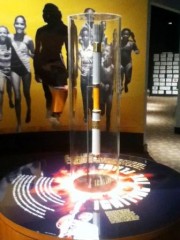 In Louisville, Kentucky we visited the "Muhammad Ali Centre" which was fascinating. Some of the highlights included the original Olympic torch he held at the 2008 Beijing Olympics, the bike he used to ride, a painting donated by Angelina Jolie, not to mention various pieces of literature and original video footage. We even got to spar with the legend in his hometown (well, his shadow at least).
Next stop was Bloomington, Indiana. Nestled in the heart of this cool little college town is one of the nicest university campuses I have ever seen – "Indiana University". With huge gardens and streams surrounding the campus, it made for an interesting walk in the glorious weather.  The famed "Kirkwood Avenue" followed and i got a taste for the local shopping scene, picking up a nice maxi dress along the way. I was lucky enough to bag an outdoor seat at the busy "Soma Coffeehouse" and to finish the day, I paid a visit to the post office to send my unique take on a birthday card to my dad (a postcard from the "Muhammad Ali Centre"). Thankfully it was worth the effort as I've since discovered he has proudly shown it to half the country! After the show, we also tasted a bit of home with some lovely homemade stew at the "Irish Lion" and as I was returning to my hotel room, I heard a distinctive Irish accent from a girl behind me. Curiosity killing me, I got chatting to her and It turned out she was a toxicologist from Dublin visiting Bloomington to complete a course for work. What a small world!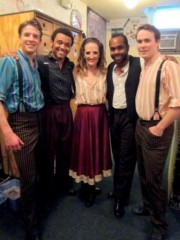 On Friday, we set off to St.Louis and this was a huge weekend for me as I was preparing to become the first female ever to perform 'Trading Taps' – a number in the show which sees the male American tap dancers trade off with the male Irish troupe. I went straight to the venue for my first sound check and this was certainly nerve-wrecking especially with the whole company watching. Thankfully it went well and I was more than ready for my debut on Sunday evening. Over the weekend, we were joined by an old member of the "Riverdance" cast – Mary-Jo Clark Cange who now has her own dancing school in St.Louis. Each show was packed with dancers, friends and family. The matinee on Saturday was particularly full and with a rapturous applause, the atmosphere backstage was electric.
Since we don't really have much time during a five show weekend, I didn't get to see much of St.Louis but this suited me perfectly as I was focusing on my big night. On Sunday, we had a short three hours between shows so catering was provided at the venue. Fed and watered, I went to the dressing room a little earlier and prepared for the show. After the first act, I was 'miced up', ready to go and surprisingly very calm. Everyone was so supportive and gathered at the live screen to watch side stage. Thankfully there were no glitches and the audience were once again fantastic for what was the most memorable performance of my life! With the pressure off, I celebrated at a groovy little jazz bar in town along with the birthday boy James Greenan who had turned 22 that day.
We had a rather quiet few days in Bowling Green, Asheville and Greensboro and arrived to Raleigh, North Carolina for another lively five-show weekend.  On Saturday morning, I treated myself and got my hair done at the fantastic "Bottega"salon.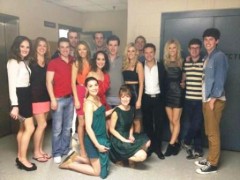 After a tasty lunch at the popular "Raleigh Times" restaurant (a converted old newspaper office) we were back for the second show and preparations were underway for Dave McGauran's (saxophonist) stag party. Bandmates and cast members got creative and made customised T-Shirts for everyone and a great night was had by all at the local "Union Bar". This was also a busy weekend for Jessie and Meghan Baffa who had a lot of family seeing the show. Their uncle came to see three consecutive shows and certainly got the crowd going from the front row!
Once again, we got the glad rags on, celebrating Aisling Drenann's 30th Birthday at the local "Mosaic" bar and now with just a short time left, the countdown is on for the end of another unforgettable tour!