Interview with Principal Dancer Alana Mallon
September 21, 2012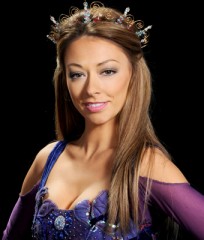 Alana Mallon, Riverdance's longest serving female principal dancer talks to Julian Erskine about her career with Riverdance.
Julian:  Hi Alana, Congratulations – believe it or not, you are now our longest serving female principal dancer, how does that make you feel?
Alana:  It makes me feel privileged. I know that when I joined the show, I never anticipated that I would have such a long run as lead. There are so many factors that go into the show from staying fit, to dancing at a level that you as a dancer are comfortable with, that I'm glad I still feel up to the task. It gives me great satisfaction that I've been able to entertain audiences at that level for so long, not only from a personal standpoint, but up to Riverdance's high standards.
Julian: Tell me about your early days in the troupe, where did you train, where did you first dance in the show?
Alana:  In 2000, I joined the Shannon Company on Broadway. I trained in New York for a rigorous week of training and I actually started dancing the show that very week! I was put on a new number nightly. It was exhilarating, exciting, a new experience, and something I will always remember. I don't think I'll ever be able to fully explain how that felt in words.
Julian: When you started as a troupe dancer, who were the leads then and in those days we used to have understudies, can you remember who they were?
Alana:  When I started in the Broadway Shannon Company, the leads were Eileen Martin and Pat Roddy. The female understudies were Sinead McCafferty, Suzanne Cleary, and Melissa Convery. The male understudies were Joe Moriarty, Anthony Sharkey, and Padraic Moyles.
Julian:  Being honest was it always a goal for you to be a lead or did that possibility grow on you?
Alana:  It never even crossed my mind as in those days there were so many understudies. There were so many others who had been with the company for much longer that  I didn't really think it was a possibility.
Julian:  In all the years you have been in the show, where was your favourite city to play/stay in?
Alana:  There's been so many that it would be hard to narrow down to just one. A few of my favourites though are: Paris, LA, NYC, Sydney, Vancouver, and Honolulu.
Julian:  And in a similar vein, what was the most memorable performance you danced in and why?
Alana:  One of the most memorable for me was dancing at the Great Hall of the People in Tiananmen Square, Beijing.  We were the first Western show ever to perform there. That was a great honour.
Julian: What is your favourite number in the show as a lead and do you have a different favourite number when dancing in the troupe and why?
Alana:   Riverdance is my favourite number to dance as it's what started the whole show. We all wouldn't be here if it wasn't for that powerful number's arrival as the 1994 Eurovision interval act. I like the way it starts quietly and it builds up to the full troupe on stage. The audience reaction is the finishing piece that completes the number for me. It's a testament to the work of everyone who has ever been in the show.
Julian:  What is the single worst thing about spending months at a time on tour?
Alana:  I'd say the single worst thing about spending so many months on tour is being separated from your family. Skype and e-mail are great, but I've missed quite a few holidays, birthdays and funerals because of being on tour, that's hard. It's hard to stay connected to what's going on back home, but it makes it all worth it to see everyone again when the tour finishes.
Julian:  When the day finally comes to hang up your dancing shoes, what will you do then?
Alana:  I would like to have a job which involves my love for Irish dance and passion for design. I used to design and make Irish dance costumes for myself when I was in competition and now I enjoy making them for others, I've always been constructive and find it really enjoyable.
Julian:  What is the one secret thing readers and fans would be most surprised to learn about Alana Mallon?
Alana:  People would be surprised to know that I have an interest in sports cars (probably got that from listening to my brother) Top Gear is one of my favourite TV shows and I love my Lotus. It's not typically something you'd expect for the female lead of Riverdance, but what can I say? Ha!ha!
Julian:  You have just finished 3 weeks in South America, how was that?
Alana:  The chance to travel anywhere new is always exciting. After completing this recent tour of South America, I can say it's very fulfilling to have performed Riverdance on every continent of the globe besides Antarctica. I was very struck by the warmth of the Brazilian people. As we exited our performance each night, we were greeted by adoring fans and massive rounds of applause well after the last curtain. Riverdance had moved many to tears and in our conversations we learned that many audience members were repeat attendees. In Argentina, we were struck not only by the audience's love for the show, but their enthusiasm for our culture as many share Irish heritage.
Julian:  And finally a trick management question – which is an easier show to dance, in the troupe or as a lead?
Alana:   That's a tough question! They both equally have their challenges.  As a member of the troupe, you're part of a team, feeding off each other's energy, and working as one unit. With the leading role, it's an individual responsibility to emote the grace and poise that is expected to carry the show. In many ways, you need to contribute just as much effort to back up the troupe's performance. The two work in sync and need to blend well together. It's always an honour to perform lead, but equally as important to perform well in troupe.
Julian:  Great answer Alana and I have to say it's always a pleasure to watch you onstage both as lead and in the troupe. Thanks for taking the time to talk and go off now and have a great break, it is well earned and well deserved. See you in China!