Quebec to Philadelphia via 10 cities
May 19, 2012
Fiona McCabe, Irish Dance Troupe, Shannon Company
City Update
Quebec City, QC: A beautiful, historic city that delighted me in every aspect but I was not sad to leave behind a city where they STILL have winter in April! Highlights included early morning swims in the rooftop outdoor heated swimming pool and dining at the 'Restaurant Le Retro' bistro in the oldtown to taste the homemade assortment of local pates and seafood chicken pie. A brunch consisting of croque-monsieur on Friday afternoon gave a nice kick start to my day.
Saguenay, QC and Ottawa, ON: With over 800 kilometers of traveling over 2 days, we were restricted to day-time exploring in these lovely cities. I was looking forward to spending some time observing the history of the city of Ottawa (formerly known as Bytown) which was founded in 1827 by Colonel John By. Next time I suppose!
Bangor, ME: I was psyched to learn that our medical officer, Chris Barbour had the pleasure of driving past famous author (and my favorite writer), Steven King's house- One of several of his properties which stood very close to out hotel on Odlin road. We wowed the Bangor audience after a record 11 hours and 25 minute travel day from Ottawa.
Glens Falls, NY: The Shannon enjoyed some breathtaking scenery as we drove via Woodstock, It gave it's name to the famous music festival in 1969 which was located a mere 69 miles away. Former troupe dancer, Lexa Hickey payed us all a nice visit with her dance students.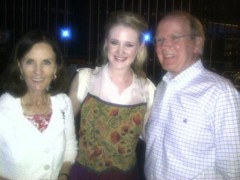 Richmond, KY: Our fist flight of the tour! Richmond saw us two well-earned, consecutive days off which we spent soaking up the beautiful southern weather in Lexington. Spirits were high as we were performing so close to the world-famous Kentucky Derby due to begin that weekend.
Knoxville, TN:  The beautiful, sunny weather continued as did celebrations for Cinco de Mayo which commemorates the Mexican army's victory over France in 1862 at the Battle of Puebla. Live music and craft stalls near Summit Hill Drive marked the famous fifth day of May.
Salem, VA:  We put our minds to the test with a general knowledge team quiz with some of the members from the band and the tappers at Buffalo Wild Wings. Go 'Team Cidona'!
Wilkes-Barre, PA: Our old loyal friend and tour masseuse, Tony Clark comes to visit from the nearby town of Scranton. Always missed Tony!
Greensburg, VA: Dance captain, Maeve Croke celebrates her birthday in style at a wine- tasting party in the Ramada Hotel organised by several of the dancers. Happy birthday again Maeve!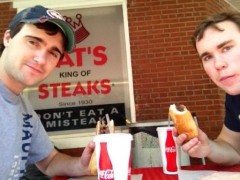 Philadelphia, PA:  The weekend finally arrives and we lap up our free time . Some embrace the touristy side of things and do the famous run up the Rocky steps. Some pay a visit to the renowned King Pat's to taste the famous Philly Cheese Steak
I, on the other hand was lucky to visit my Philadelphia relations on Sunday morning and gobbled down some an authentic Irish breakfast fry