What Riverdancers cannot live without!
May 18, 2012
Fiona McCabe, Irish Dance Troupe, Shannon Company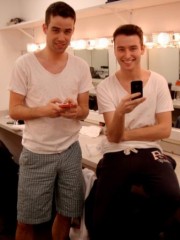 What is the one thing in this world that you simply cannot live without? We all have it, whether we live on our own or sharing with messy roommates.  When I say one 'thing' I mean something material. Being on tour is difficult when we're limited to two small suitcases so of course you can imagine it's hard to pick and pack just one favorite item. So I'll go first: my set of illuminous green earplugs and leopard print fleece blanket! The ear plugs are a must believe me.  So what's yours? Be it in the deep south by the Bayou or within snow drift in Saguenay, we all love our comforts behind closed doors. What can you simply not do without? What do you reach for in the dead of the night when you cannot sleep? I chose a few troupe dancers at random and interviewed them on their favorite item.
Brian bought his new iphone 4 when he came over to the States at the beginning of this tour. " I just can't do without it", he claims. When I ask them what they use it for mostly, they explain to me how they have the 'Viber' app. This allows them to make calls for free to other 'Viber' users. " It's a great way of staying in touch with my family back in Ireland." Shane, who has had his iphone a little longer says it never leaves his side. Brian joins in, giggling saying "it's all he does" while waiting around to dance onstage! Like Brian and Shane, many others in the company have joined them in playing online scrabble or better known as 'Words with Friends' . I guess we're the new age iphone- generation.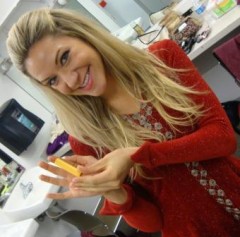 I continue my roaming backstage and spy on Jesse Baffa who is sitting in our dressing room ferociously searching through her make-up bag. "Found it", she cries! She finally seems less distracted and is happy to answer my questions. I seemed to have caught her in the nick of time after explaining the reason for my interview she was searching for that very 'thing'. Always carrying it with her wherever she goes, be it on the bus on a long travel day or first thing she reaches for in the morning. It's Burt's Bee's lip balm for Jesse. She recalls purchasing it at a lunch stop several weeks ago at a Cracker Barrel family restaurant; "They sell is everywhere!"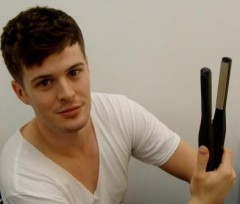 My questioning takes me to the male dressing room a floor above ours where I find Stephen Brennan patiently waiting for a hair iron to heat up. "Is that yours?!" I ask? Stephen grins at me and replies gesturing to the hair iron "You don't think I look this good everyday without these?!" I have seen it all!
– Cream trench coat with waist belt ( Zara, Boston),
– Multi colored silk headscarf ( A gift! ),
– Black cashmere mix cardigan ( Lululemon Athletica, Boston),
– Silver, crystal earrings ( A Christmas gift from my college friend),
– Gold, St. Christopher pendant and chain ( A gift from my mum)
I treated myself to this trench coat while in Boston. I have a slight minor obsession with coat and jackets- A mere six days later I purchased a vintage Burberry trench coat! It is ideal for travels to and from the theatre when I feel like getting out of my casual day clothes. It is perfect for the current weather we have at the moment. It is summertime after all!
Catch Riverdance before it closes - Philadelphia
<
Quebec to Philadelphia via 10 cities
>