Final twirl in Tassie
May 10, 2012
Kane Young www.themercury.com.au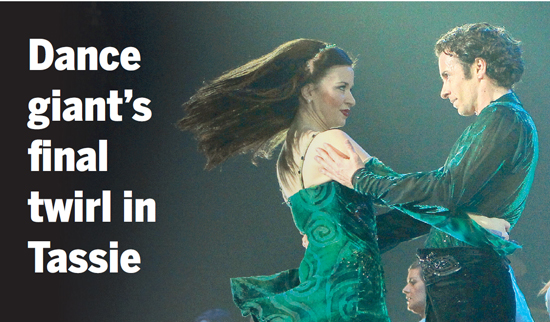 Thousands of Tasmanians are tapping in to the power and grace of Riverdance, which made its long-awaited return to Hobart last night.
After thrilling millions of people over the past 17 years, the celebration of Irish music and dance is touring Australia for the last time.
When Riverdance last visited Hobart in 1998 it sold more than 16,600 tickets in two hours, an Australian record for the show.
The production rolled back into Hobart on Tuesday, with the touring party including 24 Irish dancers, two tap dancers from the US, a Spanish flamenco dancer, a four-piece band, 15 backstage crew and three shipping containers of equipment.
The task of wrangling the cast, crew and gear falls to company manager Laurie Small, who said " We may yet see a ''revitalised and revamped'' version of the show. ''It has been a very successful format that has worked very well,'' he said. ''We find that although we're doing a farewell tour in one place, another market opens up somewhere else – we're now very popular in China, and we're also off to South America for the first time. ''So while it's a farewell tour here, it's still going on in other places.''
The Riverdance Farewell Tour is on at the Derwent Entertainment Centre at 8pm on 10th and 11th May and 2pm and 8pm Saturday 12th May and 1pm and 6pm Sunday 13th May
Tickets are $65 to $130.

Phone 136100 or go to www.ticketmaster.com.au for bookings.