Boston to Toronto
May 1, 2012
Maeve Fearon, Irish Dance Troupe, Shannon Company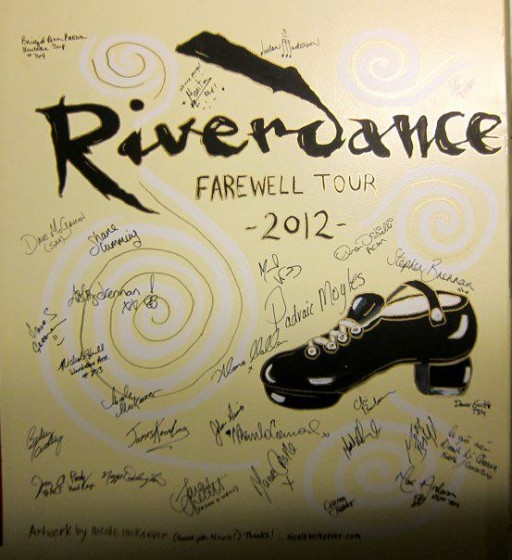 The past number of weeks have been so hectic I don't even know where to begin but our time in Boston is surely a good start. Having enjoyed a nice evening with cast member John Grime's family in Concord, New Hampshire we arose early the following Friday morning to catch the public bus to Boston. Since the Boston marathon was on, the hotels were jam packed so our company hotel was quite a distance from the city. Instead, a few of us decided to stay at the "Marriot Quincy" giving us more freedom to come in and out of the city as we pleased, which was great.
The weather was beautiful when we arrived into Boston and once we dropped our bags at the venue, we were free for the day. We set off to "Harvard University" and general Cambridge area which, as you would imagine was buzzing with bright young scholars. As we explored the beautiful and intriguing university grounds, it dawned on us that we were also standing in the very place where "Facebook" once crashed the university server!
Leaving the books behind in search of lunch, it was hard not to notice the long queue outside Mr&Mrs Bartleys famous burger joint which wastightly run by the jolly couple themselves. Mr Bartley took our order outside and after a short wait, we were seated in the tiny establishment and enjoyed a feast which had us full for the day.
We continued to "Copley Square Mall" and finished the day before our first show having coffee at the charming "Boston Common" public park. The following night, my friend Gareth from home who is now living in Quincy, came to watch the show with his girlfriend and her parents. Coincidentally my Aunty Imelda was also flying into Boston airport the following day to spend time with my close relatives from Conneticut. Having spent the morning having breakfast and walking through the wonderful "Little Italy" area, I raced to the airport after our matinee show for a much needed catch up. As thoughtful as ever, Imelda surprised me with some treats from home including homemade wheaten bread. I had a lovely time with them all before returning to Boston Opera House for the last of our shows there.
Leaving the big city behind, we continued to the much smaller town of Buffalo, NY which was just a stopover enroute to Canada for our next show on Tuesday. After a rather long bus journey, we had a lovely evening off there enjoying some thai food, finished off with a beautiful desert next door at an interesting "Chocolate Martini Bar". On our journey to London, Ontario the following day, I was just dosing off when I heard some commotion on the bus and was pleasantly surprised by the beautiful sight of none other than "Niagara Falls"! Stopping for lunch there was surreal and it was back to Canada with a bang for a further two week stint.
I was overly excited about our imminent stay in Toronto on Thursday and as expected I loved it from the moment we arrived. On first impressions, the city is representative of a much stronger Canadian economy. The streets are alive with business people and tourists alike and the many eateries and bars are packed daily. We spent our first day on Queen Street where we enjoyed a beautiful breakfast on "Cafe Niche"'s terrace and delved into the many shops ranging from quirky boutiques to high-street stores. "Queen Street" had so much to offer that I returned on our second day spending the majority of my day relaxing in "Chococrepe" catching up with people at home on my computer over some delicious crepes and coffee.
Meanwhile, our male troupe had an early start as they performed live on Canada's largest TV show, Canada AM. Their PR duties must have paid off as the audiences in Toronto were the most memorable of the tour with a whopping near 10,000 people attending our shows!
All in all, Toronto surpassed my expectations and to finish a great trip, once again I met with some familiar faces from home at "Sweaty Bettys" – a little dive bar which I later discovered to be Drew Barrymore's favourite bar in Toronto.