Boston – a fond goodbye
April 30, 2012
Fiona McCabe, Irish Dance Troupe, Shannon Company
New York, New York so good they named it twice. Well I'm relabeling the city for all you Bostonians out there; "Beantown Beantown!" What a splendid weekend we endured as we took the Opera House by storm one last time for the fine people of Massachusetts. Five spectacular performances over three days simply could not afford me enough time to whisk around and complete my usual touristy stunts.We were simply blessed yet again with the fine weather which peaked well into the 80's.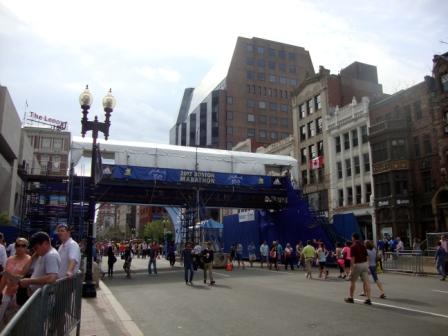 Leaving the Fairfield Inn Concord , we embarked on the eleven o' clock public bus service into the city. I almost jumped with excitement at the sound of the " next stop South Station " announcement. We easily made our way to the mouth of Chinatown and walked straight on up through ……..st. There dazzling before my eyes was the giant, purple 'W' sign glittering in the early afternoon sun. I had the pleasure of staying with some wonderful relatives at the fabulous W Boston Hotel right in the heart of the theatre district. Regrettably the weekend wasn't enough time to spend with my dear cousins.

Not all of the Riverdance Company were lucky enough to lap up the luxury of the W Hotel, some resorting to the assigned hotel in Woburn and the Mariott in Quincy. It was on the forefront of everyones mind to make the most of what Boston had to offer.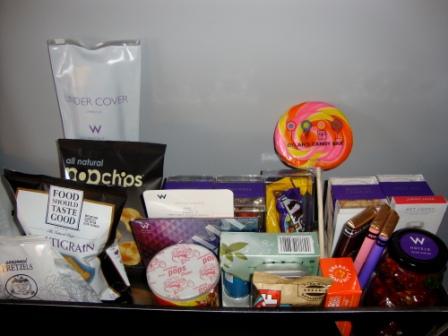 After a delightful opening night I went to spend some more quality time over a late dinner with my cousins at the contemporary Italian restaurant, Teatro. If you have never had duck ravioli and wish to try it, I recommend you to pay a visit to one of the chefs here. The Friday night special on the menu left me licking my fingers and wishing I hadn't ate that poor bird so quick. I urge you, GO!
I had the responsibility to tweet on behalf of Riverdance for 'Broadway in Boston' , a company which promote and advertise musicals, dance shows and other such theatrical performances coming to Boston. I confess I am quite unfamiliar with the use of 'Twitter' as a means of social networking however duty calls and I was delighted to assist the staff of 'Broadway in Boston' on such a privileged task . I enjoyed giving updates on life of a professional Irish dancer offstage. A sneak peek into how we prepare for an opening night performance is obviously still as intriguing as ever to the outside eye. Thank you to Rich Jaffe and the Broadway in Boston team for the wonderful baseball hats and welcome letters!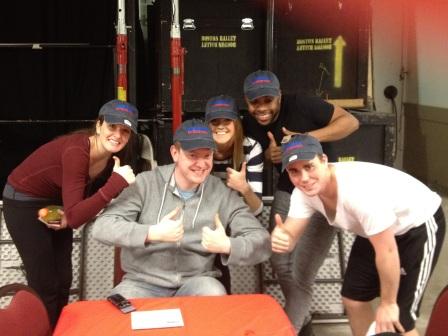 Boston itself ,being a city quite influenced by the Irish, makes it a hub for many Irish Dancing Schools. We were so thrilled to welcome Irish Dance students from many different dance academies to our performances over the weekend period. Autograph signing and partaking in group shots with throngs of young dancers and enthusiasts makes my job on the road as exciting as ever. Certainly the Nevin, Cunniffe, Hayley and Woods Academy added to the wonderful atmosphere in the Opera House. I remember only too well seeing Riverdance for the first time in Dublin and how it inspired me to better myself as a dancer. I hope we too, have the ability to deliver such inspiration to the young generation of dancers today.
Temperatures soared into the high 70's on saturday afternoon. This made choosing a lunch stop too difficult. What an array of foodstuffs, spoiled by too many types of restraunts and cuisines . Was it sinful to gorge on the All American bacon and egg and cheese bagel and donut for breakfast? (That's meant to be rhetorical.) No! It's a sin to walk straight past a Dunkin Donuts and not treat oneself to a fresh Boston Cream!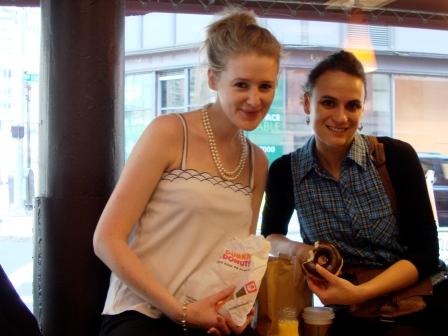 Lunch brought Korean BBQ for me after my matinee. I was torn between that and the Dumpling House in the heart of Chinatown! With some time to spare after I wet my apetite, I made my way down to Faneuil Hall at Quincy Market. Blown away by the assortment of food there, I felt cheated by the feeling of satiety or rather upset as I passed the stalls of fresh oyster and Boston clam chowder ( pronounced 'chowda'!). Making my way outside the market I was met by street performers such as jugglers, magicians and dancers effortlessly entertaining dozens of Bostonians and visitors alike. Hmm, yes, Saturday afternoon in Downtown Boston wasn't such a bad place to be in I thought to myself….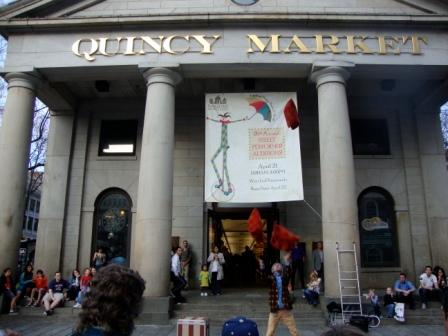 Strolling back up the Freedom Trail off Washington Street I was nostalgic and moved at the Irish Famine Memorial by the fine sculptor, Robert Shure. It was a grim reminder of hard times endured by our predecessors but signified hope and the start of something new.
After some R&R at the Quincy Mariott, I woke a happy girl Sunday morning ready to take Boston once again by storm. With the excitement of the preempting Boston Marathon (since 1897) and all the preparations underway I was excited to explore the city and follow some of the route for the following day. Aimlessely strolling (with emphasis on word strolling) down Boylston Street, I couldn't help think how so many brave runners were going to partake in this epic world-renowned race in such hot temperatures. I was soon distracted at the thoughts of Copley Mall and the Prudential Centre. Ah yes! The reason for my visit to Newbury St.! With my usual, unfortunate time constraint I whizzed around as many stores as quick as I could. Thank you Alex & Ani, Kate Spade, Rag & Bone and Lululemon Athletica for emptying my wallet and depressing me at the sight of all the things I am unable to afford from your store!
So here I bow out and leave with you another chapter of our travels. With a fond goodbye to Beantown Beantown, we leave with great sadness but hope the joy and life of Riverdance this weekend brought something special to each and every one of you.