Six cities and 1,538 miles in one week!
February 23, 2012
Meave Fearon, Irish Dance Troupe, Shannon Company
This week, we travelled to six cities and covered approximately 1538miles in two coaches; the 'loud coach' catering for people who may want to chat, watch DVDs etc and the 'quiet coach' for those who wish to remain silent for an entire journey. Since we were travelling every day, we had little time to spare, meaning this would be one of the less eventful weeks on tour.
On Tuesday, in Pensacola, Florida, most of the company enjoyed a long lie-in and spent the day doing laundry, relaxing and catching up with loved ones on Skype. After the show, we watched "Bridesmaids". It certainly didn't disappoint and neither did my mug of Tetley's tea or Galaxy chocolate, both of which are now in short supply!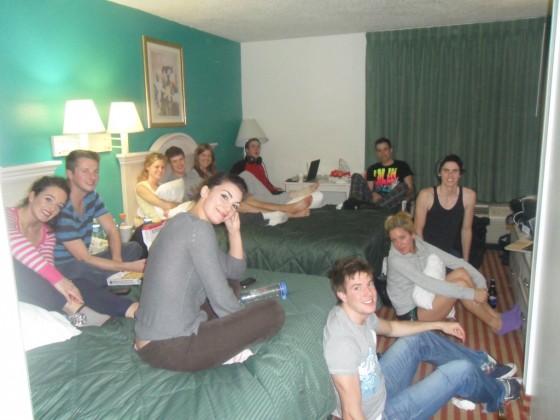 Our bus call was a little later the following morning so a few of us headed off to a local gym. Although the show keeps us fit, it's also nice to introduce other forms of exercise such as cardio and weight training into our fitness regime. Later that day, we arrived to sunny Dothan, Alabama and enjoyed a quick bite outdoors at one of our favourite eateries "Panera Bread". Since the female cast are required to do their own hair and make-up, our time in the sun was short-lived and we caught the first of two scheduled buses into the "Dothan Civic Centre" for our second show of the week.
On Thursday, we moved onto a little town in Georgia called Savannah, a must see for anyone visiting USA. As the sun shone on it's cute little cobbled streets, we walked through the city market area and on to the impressive seafront, passing water fountains, old carriages and wonderful squares lined with beautiful flowers. The town preserves its past with old cotton warehouses, Colonial public buildings and plenty of historic artefacts. In contrast, vibrant college students bring plenty of modernity to the place, many of them dipping into quirky boutiques such as "Fab'rik" and "Urban Outfitters". The "Marc Jacobs" store was also a sight to behold but it was 'window shopping ONLY' for me on this occasion!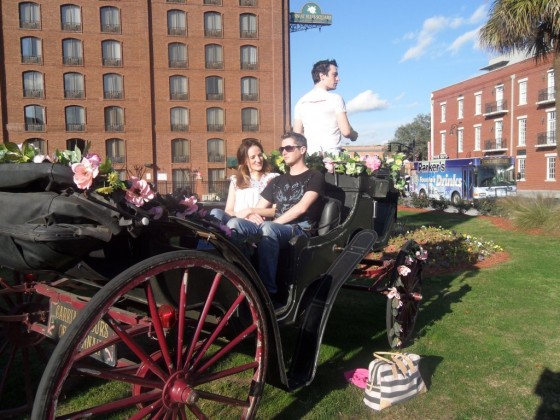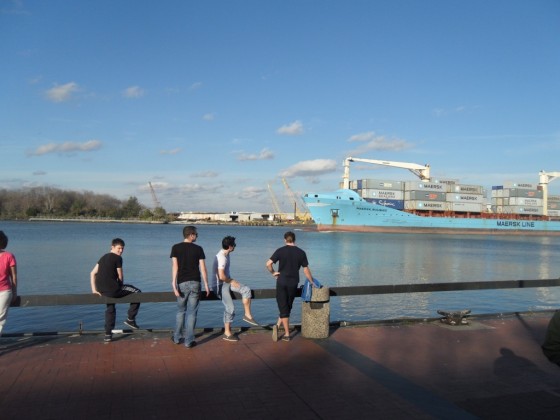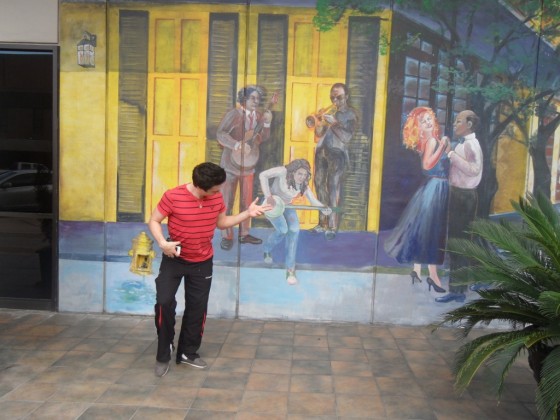 As our established fiddle player, Pat Mangan was leaving due to other commitments, we got a taste of Savannah's busy nightlife at the charming "Rail Bar". This was also a great opportunity for the company to welcome our new fiddle player, Rose Duffy from Chicago, who is taking a short break from her job as an occupational therapist.
Normally we spend our weekends in one city. However, this week we travelled to three different destinations: Augusta, Columbia and Tallahassee. Our journey to Columbia was quite eventful as the 'quiet coach' broke down. But in true "Riverdance" fashion, no one complained or made a fuss and we all gathered onto the one coach and were back on the road in no time. On Sunday, we moved on to Florida's capital, Tallahassee and were greeted at the DoubleTree hotel by their infamous free cookies. The "Bell Auditorium" was the first of many arena shows and with a much bouncier stage, thankfully it was a little easier on our legs. After the show, we headed off early to bed in preparation for our ten hour bus journey to Southaven, Missisippi.
Maeve
Tip of the Week:
'Lonely Planet' books are an essential travellers guide to towns and cities all over the world. They offer excellent advice and references for places to eat, stay and various points of interest etc.