Riverdance performs for the vice president of the People's Republic of China
February 23, 2012
On Sunday night, 19th February, the vice president of the People's Republic of China was treated to one of the country's biggest recent success stories.
Vice president Xi Jinping made a special request to see 'Riverdance', which is hugely popular in his homeland.
His wish was granted at a special private performance in the O'Reilly Theatre at Belvedere College, on Dublin's northside.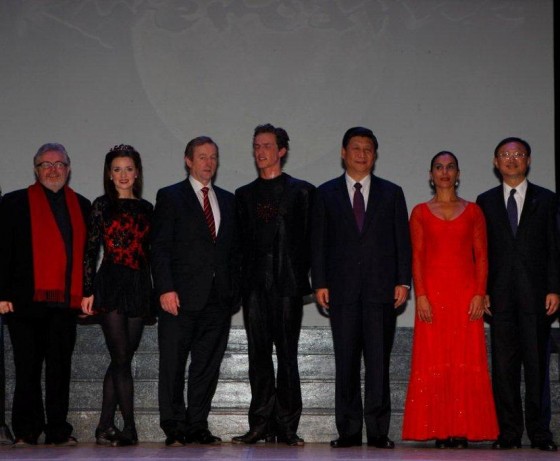 The show is still a sell-out in the world's most populated nation, and has toured there extensively since its debut in the 1990s – a total of five times to date.
In 2009, the show was even part of China Central Television's Spring Festival Gala, watched by an audience of millions across the country.
The show has been staged more than 150 times, and more than 300,000 Chinese people have watched it.
An eight-week, 21 city tour of China is at the late stages of planning for the end of 2012.
Riverdance is hugely popular. Chinese audiences are often bored by Western theatre productions, shifting in their seats and sending text messages, but they love Riverdance with a passion, and one of the most remarkable sights is watching a Chinese audience stamp their feet and clap as the Riverdance troupe goes through the motions.
www.irishtimes.com
Photography: davidcantwellphotography.com
Interview with Riverdance principal dancers James Greenan & Chloey Turner
<
"As we say goodbye, we are also saying hello."
>