Saying goodbye to North America
February 20, 2012
article by Associated Press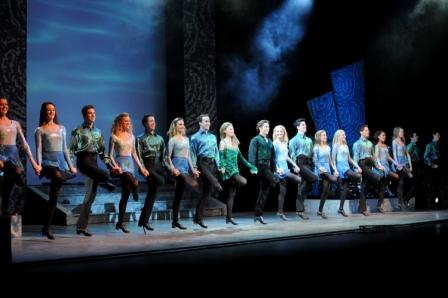 When Julian Erskine last saw the American touring company of Riverdance he had to smile.
He was in the Segerstrom Center for the Arts on an October night in Costa Mesa, Calif., watching the high-stepping cast electrify the crowd once again despite more than a dozen years crisscrossing the nation.
"To be at the back of a hall with the audience jumping to their feet at the end of the show after all these years, it's just so gratifying and just so pleasing,'' says Erskine, the show's senior executive producer, by phone from Dublin.
Even so, the end of the road is nearing. Riverdance is currently on an 82-city farewell North American tour that's winding across the U.S. and Canada and ends in June. This month, the show left Texas, hit the Southeast and next goes to the Plains.
"It's certainly emotional to be saying goodbye,'' says Erskine.
The show has been touring continuously in North America since 1996, sometimes with two companies simultaneously. While organizers insist there's still interest in the U.S., new markets beckon in South America, India and China.
The touring company includes six principal dancers, 18 troupe dancers, a live five-piece band, flamenco dancer and two American tap dancers, one of whom is also a baritone soloist.
Padraic Moyles, one of the principals, is dancing with a heavy heart. He joined "Riverdance'' in 1997 and fell in love with his co-star and now wife Niamh O'Connor while in the show. While he has performed elsewhere, he says American audiences are special.
"Anybody who joins the show from here on out and doesn't get the opportunity to perform it in America, will be missing something,'' he says. "I hope that someday, whether its 10 years from now, it does come back so that people get to experience that reaction again.''
Riverdance opened at Dublin's Point Theatre on Feb. 9, 1995, at a time of renewed Irish optimism and pride surrounding the onset of the booming "Celtic Tiger'' economy. Years of relative poverty were disappearing and being Irish had a new cool, thanks to a new generation of athletes and musicians like U2 and The Cranberries.
"The timing couldn't have been better. We just picked up on a vibe that was happening in this country and we suddenly felt, `Maybe it's not so bad being Irish. Maybe we don't have to be the butt of every joke,' says Erskine. "It couldn't have happened five years earlier. It just wouldn't have happened. I don't think we would have had the courage to have done it.'
It has since been seen by an estimated 22 million people in 40 countries, from Red Square to the Great Wall of China.  It made its American debut in 1996 at Radio City Music Hall in New York City, and packed the Gershwin Theatre on Broadway for 18 months in 2000-2001.  Not bad for a show that first premiered on the 1994 Eurovision Song Contest as a seven-minute segment.
RIVERDANCE  will play the following US cities
from February to June 2012, FOR THE VERY LAST TIME!
 MORE DATE TO GO ON SALE SOON!