Q&A with Padraic Moyles in Dallas
February 2, 2012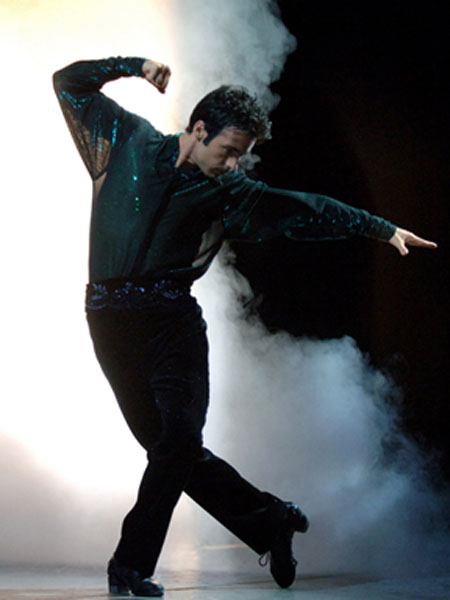 TheaterJones Performing Arts News in North Texas
by Katie Dravenstott
The lead dancer of Riverdance discusses the show's longevity and its impact on American dance.
Dallas — Since its first performance in the United States in 1996, Riverdance has been wowing viewers with its fast footwork, original sound and Irish charm. What started as a seven-minute dance segment on the 1994 Eurovision Song contest has become an international phenomenon and Ireland's poster child.
Produced by Moya Doherty, directed by John McColgan and with music by Bill Whelan, Riverdance takes viewers inside some of Ireland's timeless traditions through song and dance.
Now, as its 15-year U.S. run comes to end, TheaterJones asked lead dancer Padraic Moyles to tell us what it's like being a part of this sensational cast, the lore behind the Irish technique and what he thinks the show has done for Irish dancing, especially here in the U.S. The show makes its final North Texas appearance Feb. 7 and 8 at the Music Hall at Fair Park.
TheaterJones: What makes Irish dancing different from other styles of dance such as tap?
Padraic Moyles: Irish dancing is actually quite similar to tap dancing. The similarity between the two is the rhythms. Tap dancers do the exact same rhythms as us, so they could copy our set of rhythms perfectly and we could copy their rhythms perfectly. It's just how we do it is completely different. We're a lot more strict and disciplined in our artform and American tap dancing is a lot looser. We do have tap dancers in the show and when they're teaching us moves and we're teaching them moves it feels really foreign. We're still dancing and making rhythm with our feet, it's just a different technique.
What is the significance of holding your arms at your side when you're dancing?
There are numerous stories as to why that happened. One is that the Catholic Church is very strict in Ireland and it was a sign of needing space for the Holy Spirit. You stay straight and upright and you didn't touch your partner because it was a sign of respect. The next two stories are the ones I like the most. For a long time Britain had a stronghold on Ireland and during this time social parties were in a sense banned. Well the Irish people are well known for their social parties so they would gather in someone's house and dance from the waist down so when British soldiers walked by and looked in the window they would only see their still upper bodies. The other one is that the houses were so small that they would take the doors down and dance on the doors to create the rhythm. Well, there wasn't enough space on the door for everybody so they had to keep their hands by their sides and their backs straight to fit more people on the door.
Riverdance contains both soft-shoe and hard-shoe dancing. Could you explain the difference between the two?
Everybody starts in soft shoe and progresses to hard shoe. The soft shoe you're talking about is probably in terms of the girls' soft shoe and it's a much more balletic style of Irish dancing. And the girls that are doing it today are extremely athletic in what they do. The main difference is in the soft-shoe dancing is the girls are very much on their tippy toes and are very, very light on their feet. They try to portray a very regal stance in terms of what they are doing with their feet and the movement they are creating on the stage. And then with the hard-shoe dancing, it kind of speaks for itself in the sense that it's all about the rhythm and technique. But technique is very important in both soft-shoe and hard-shoe dancing.
What impact has Riverdance had on the dance culture in America?
The Americans have come a long way when it comes to Irish dancing. They are really becoming a powerhouse. So, it is amazing how Riverdance has probably had a massive influence on promoting the culture here in America. I grew up in Dublin and moved to New York where I have spent most of my life and I was competing in Irish dance in New York 15-20 years ago and most of the time the Americans didn't do that well. And now, there's an American world champion!
I think when Riverdance came out it made Irish dancing popular and sexy and athletic and all those terrific things so that a lot of those parents with Irish ancestry decided they wanted their children to learn it. I think Riverdance made a massive push for Irish dancing in the U.S. because if you talk to any Irish dancing instructors that have been around before Riverdance and are still here now they would say their numbers jumped massively since Riverdance came out.
What was the auditioning process like for Riverdance?
My mom won't be happy with me telling you this but I cut school and went up to Boston to audition for the show. A couple weeks later I got a letter in the mail from Riverdance which my mom promptly opened and we found out I had made the show. I had to tell her what I did but she loves Irish dancing so much anyway and it was her dream as much as I mine to be in this show so it kind of made up for cutting school. They did sit me down and tell me I wasn't leaving till after I finished high school. I finished out my year and went and joined the troupe. I was 18 years old.
What is it like working with such a large cast of dancers?
Mainly we all get along because we understand where each other comes from. There is no room for egos. And Riverdance does a great job of helping everyone understand that because the only way a show like this works is if the team works strongly together. We all have the same common goal, which is putting out the best product every night.
We also have this environment where we are able to help each other and correct each other in a way that's constructive. So I am able to go up to people when we come off stage and say "hey guys what was up with our line out there we were a little off. Someone wasn't moving fast enough." And right away you will hear someone say "I think that was me. Sorry. I won't let it happen again." So it's an encouraging environment as well. But there's also that healthy competitive attitude within the show as people try to achieve their own personal goals in terms of trying to get ahead. This is terrific as long as those personal goals never interfere with the team goal.
How do you keep your performance fresh night after night?
Back in 2008 I was getting to a point where I was kind of in a routine and I didn't want to be in the same routine anymore. So I started to search for somebody who could really help me and I found him in Ireland. His name is Edmund McNulty and he works for a company called Motivate. We have been working together for the last two years and he continues to help me challenge myself. The exercises I was doing no other Irish dancer was doing at the time and now I see loads of people in the troupe doing them. It's just about continuing to push the game forward and continue to get better and not become lackadaisical in what you are doing.
Now, just because you are doing something all the time it doesn't mean you are not doing it right. For me, I was going through a routine and I was getting bored with my routine. And then I started to doubt my routine and questioned whether I was doing the right thing or the wrong thing. Edmund really helped me overcome this.
To what would you attribute the show's longevity?
Simple sophistication. It is classy and it has never lost its integrity. And I really think Riverdance does stand by this. We're all taught coming in whether it's by somebody who has been there a long time or by a member of the production team to never look at Riverdance as just another Irish dance show. It is a full-scale Broadway production. And I think this message is passed down to every new person that comes in whether it's their first Broadway show or their first time in Riverdance. It's important that every single person that performs on that stage understands what they're a part of because in terms of Ireland Riverdance is not just a show. It's a cultural ambassador and with that comes a responsibility. And it's important that we perform Riverdance every single night like it's our last night or our first night.




Get your tickets here!
Riverdance performs at Music Hall at Fair Park on Tuesday, Feb 7 and Wednesday, Feb 8
Tickets  $35-$65
Box Office: 800-745-3000