Riverdance perform at NYE Dublin
December 29, 2011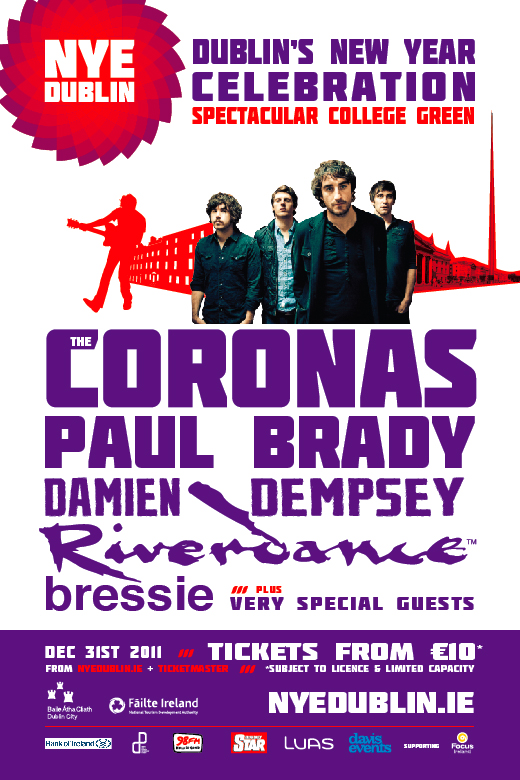 DUBLIN'S 3 DAY
NEW YEAR'S FESTIVAL
30 DEC – 1 JAN
NYE Dublin is Dublin's first official New Year's festival. This inaugural event was celebrated over the course of 3 days from 30 December 2011 to 1 January 2012 in Dublin's City Centre.
The city centre will be buzzing as we bring the music straight to you with a host of world class Irish acts taking to the College Green stage. Headliners include the iconic Riverdance, newcomer Bressie, renowned singers Paul Brady and Damien Dempsey and The Coronas. With many more exciting acts to be announced, this concert is sure to be the highlight of the NYE Dublin festival so be sure to get your ticket today!
As Dublin's biggest supporters Failté Ireland and Dublin City Council  saw the requirement for an event that would highlight Dublin as a fantastic European destination during this festive season.  Through their funding and on-going support NYE Dublin will animate our beautiful city like never before with street performance, theatre, art, markets and entertainment.
Whatever the weather Dublin will be set ablaze with the energy, festivity, excitement and celebration of this annual holiday.
Don't miss your chance to witness this dance and stage phenomenon and celebrate this New Year's Eve with Ireland's very own Riverdance.
Riverdance was first performed during the 7-minute interval of the Eurovision Song Contest on 30 April 1994.
It received a standing ovation. Later that year, the BBC commissioned a repeat performance of the act for the 1994 Royal Variety Show, when it was introduced on stage by Sir Terry Wogan. At Congratulations : 50 Years of Eurovision,  it was named as one of the most popular interval acts in the history of the contest.
Almost two decades later and Riverdance has grown from strength to strength. Now one of Ireland's most internationally renowned acts , Riverdance has promoted our green isle with their traditional style of dance adapted to a new modern audience.  Bill Whelan's Riverdance has become a global success, reaching homes and stadia from New York to Beijing and Paris to Australia.