US Tour to close June 17, 2012
November 12, 2011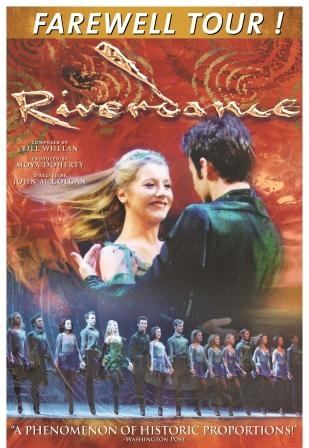 Moya Doherty, the producer of Riverdance, has announced that the United States touring production of the internationally-acclaimed worldwide phenomenon, will play its final performance on Sunday, June 17, 2012 (at Wolf Trap Foundation for the Performing Arts in Vienna, VA).
"Three years ago we embarked on our farewell tour, saying good-bye to every city in North America we have ever played in over the years, and next June 17th in our 16th year this current production of Riverdance will end and we will say our final good-bye.
It has been a source of immense pride for me as Producer that America took Riverdance to its heart to such an amazing extent and I would like to pay tribute to every dancer, musician, singer and all the crew and staff who served Riverdance so well over the years. "

The show that started it all, Riverdance, has been performing in the United States since March 1996 when it had its U.S. premiere at Radio City Music Hall in New York. Since then, the show has tapped its way onto the world stage thrilling millions of people around the globe. While the touring production in the U.S. will close on June 17, 2012, productions of Riverdance will continue to tour the world.
From Los Angeles to Louisville, Seattle to Boston, Chicago to Chattanooga or Memphis to Miami, the power of Riverdance – its music and more than 50 stomping feet – has captured the hearts of millions.
Riverdance the Farewell Tour will perform in the following US cities from November 2011 to the final US performance on 17 June 2012
Modesto CA,  Los Angeles CA,  Cupertino CA,   Redding CA,
Palm Desert CA,  Santa Rosa CA,  San Diego CA,  Honolulu HI,
Dallas TX,   Longview TX,   Houston TX,   Pensacola FL,
Savannah GA,   Augusta GA,  Kansas City MO,  Duluth MN,
Mankato MN,  Brookings SD,  Davenport IA,  Chicago IL,
Lacrosse WI, South Bend IN,   Wabash IN,  East Lansing MI,
Springfield IL,   New Philadelphia OH,  Detroit MI,  Lancaster PA,
Boston MA,  Richmond KY,  Knoxville TN,  St. Louis MO,
Bowling Green KY,  Asheville NC,  Greensboro NC, University Park  PA,
Baltimore MD,   Augusta ME,  Salisbury MD, Vienna VA .
Composed by Bill Whelan, produced by Moya Doherty and directed by John McColgan, to date, Riverdance has played over 10,000 performances, been seen live by more than 22 million people in over 350 venues throughout 40 countries across 4 continents. They have traveled well over 600,000 miles (or to the moon and back!), played to a worldwide television audience of 2 billion; sold over 3 million copies of the Grammy Award-winning CD (certified Platinum in the US) and over 10 million videos making it one of the best-selling entertainment videos in the world! Riverdance had its world premiere at the Point Theatre, Dublin, in February 1995, where it opened to unanimous critical acclaim.
What began as a seven-minute dance segment on the 1994 Eurovision Song Contest (televised to over 300 million people throughout Europe) and then quickly turned into a full-scale production has become much more than an international theatrical success. "I believe Riverdance has been basically a pathfinder," said Niall O'Dowd, founder of Irish America Magazine and the Irish Voice newspaper. Along with the peace process in Northern Ireland and the economic miracle in Ireland proper, the show "has been a hugely important part of a transformation of the image of Ireland in the last 20 years."
In a flash, Riverdance became Ireland's greatest ambassador and the thirst began. Riverdance changed the face of Irish dance and despite its imitators, has remained on top and was voted the #1 Variety/Family Entertainment Show in the US (1998).
There have been many milestones along the way including the distinction of being the largest Western musical to play China; a record-breaking line of 100 Irish Dancers mesmerizing 85,000 people at the 2004 Special Olympics in Dublin; a 15th Anniversary celebration at Radio City Music Hall; dancing in Red Square and on the Great Wall of China, two SRO engagements in South Africa and much more.