An explosive experience!
May 31, 2011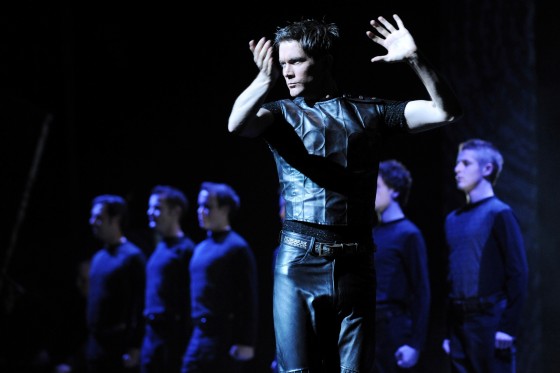 Review Royal Theatre, Victoria
by Grania Litwin, Timescolonist.com May 31, 2011
With billowing waves of Irish mist rolling across the Royal Theatre, stage, under the projected image of a cool moon in a turbulent sky, Riverdance set the scene for an explosive evening Monday.
About two dozen dancers stepped slowly on stage then suddenly detonated an arsenal of taps accompanied by a furor of crisp knee bends, high-flying kicks, shimmies and leaps — all delivered with heart-pounding precision and intensity.
Australian-born world champion Craig Ashurst, principal performer with Riverdance, discharged salvo after salvo on the company's first of three nights in Victoria, offering an exciting, charismatic performance. While on stage delivering the goods, breathless voices in the audience could be heard again and again whispering: "Oh my God."
The female performers, in short black skirts with red petticoats seemed to float across the stage with upper bodies and arms barely moving, while their legs were an impossible blur. Principal dancers Caterina Coyne and Chloey Turner were standouts among the many national and international champions of both sexes who come from Ireland as well as Great Britain, the U.S. and elsewhere.
The moves, thunderous rhythms, intricate patterns and sheer joy of this show are why it has been performed 10,000 times in the past 15 years and been seen by more than two billion on television or live — in 40 countries. It's a celebration of Irish music, song and dance that has tapped into the world consciousness and some even credit it with helping transform the image of Ireland in the past two decades, as a kind of touring musical ambassador.
One of the highlights Monday was a duelling dance between American tappers DeWitt Fleming Jr. and Michael Wood, who also sang a solo. In this segment Ashurst leads a trio of Irish boys, new immigrants to America, who catch sight of two young men dancing in the street and decide to offer a "cultural exchange."
The Americans pull out every trick in the book, from high splits to Michael Jackson's famous moonwalk, but for the Irish step dancers it's no contest. Using their feet as instruments, they jam together, offering a bewildering rapid-fire, heel-pounding spectacle of sheer energy.
And the show is not just about dancing.
The Grammy Award-winning music is performed by a live band that's split into two and takes up about a third of the stage. To my mind it's too loud on occasion, and sometimes drowns out the music of feet, which is what we're there to hear. Some of the most haunting melodies were much softer, with choir, solo voices, saxophone, uilleann (Celtic) pipes, whistle and the lyric fiddling of Niamh Ni Charra.
Riverdance is evolving, tapping these days into a new power grid and catering to a higher-decible taste with its often more contemporary Irish sound, long line of synchronized dancers, star performances and even a couple of flamenco turns by Spanish dancer Marita Martinez-Rey, who trades rhythms with Ashurst.
glitwin@timescolonist.com
Read Full Review on Timescolonist.com