Enormously Popular Riverdance Returns to The Teatro, Joannesburg in September
April 12, 2011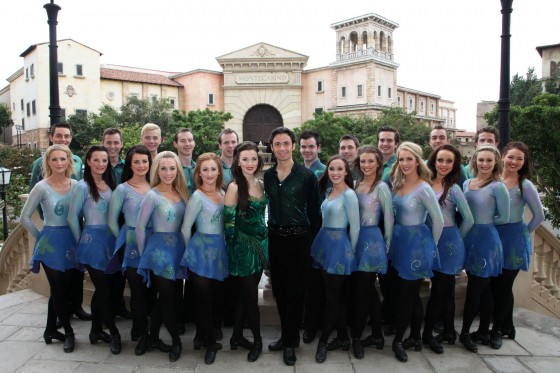 The enormous popularity and unprecedented response by the South African public to Riverdance led to a complete sell-out of the show's season at the Teatro at Montecasino earlier this year. This exceptional demand for tickets resulted in South African promoters, BIG Concerts bringing the show back to the Teatro for a return season opening on Tuesday, 27 September 2011 for two weeks only, ending on Sunday, 9 October 2011.
BIG Concerts together with media partners M-Net and Jacaranda 94.2 are excited to announce the show's second Johannesburg season in 2011. "We are indeed fortunate to secure a quick return of the 45 member cast and the remarkable Riverdance Irish Troupe to South Africa before the close of the production's world tour at the end of this year." says Attie van Wyk, CEO, BIG Concerts.
Riverdance holds the record at the Teatro as the most successful pre-sales show since this world-class venue opened in May 2007 and the forthcoming return season offers patrons who were unable to book tickets for the earlier season, the chance to see this not-to-be-missed entertainment experience. Riverdance, the original large scale Irish music and dance show is loved by local audiences and applauded by critics:
"Haunting music, flashing feet, beautiful girls so light they look as though they are flying … this is Riverdance." Jennifer de Klerk, Artslink
" … and the dancing and playing is absolutely world-class." Bruce Dennill, Citizen
"There are few occasions where I have been so overwhelmed by the sheer radiance of a show so flawlessly executed that I have been left virtually speechless." Peter Feldman, Artslink
"Catch them before they're gone. They dance their way into your heart in an instant." Diane de Beer, Tonight
Don't miss this opportunity to experience the phenomenal flying footwork, energy, sensuality and the spectacle of Riverdance.
Book at Computicket by calling 083 915 8000, visit www.computicket.com or visit your nearest Computicket outlet.
For all Teatro group hospitality bookings contact Montecasino Hospitality & Corporate Events on 011 510 7905 or montecasino.hospitality@tsogosun.com
Contact the Montecasino Reservations Centre, 011 367-4260 or montecasinoreservations@southernsun.com for Hotel Show and Stay Packages.
__________________________________________________________________________________________________________________________
SHOW INFORMATION:
VENUE:
The Teatro at Montecasino, Johannesburg
DATES:
Tuesday, 27 September to Sunday, 09 October 2011
SHOW TIMES:
No Monday performances.
Weekdays: Tuesdays – Fridays 20h00
Weekends: Saturdays 15h00 and 20h00
Sundays 14h00 and 18h00
PRICES:
MID-WEEK including Computicket service fee
Tuesday to Thursday and Sunday evening
R221.00, R272.00, R324.00, R374.00
WEEKEND including Computicket service fee
Friday, Saturday and Sunday matinee
R 246.00, R 297.00, R 349.00, R 399.00
FAMILY PACKAGES:
Valid on Tuesday, Wednesday and Thursday nights ONLY (on R 272 tickets)
Family of 4 pays R 960, 5 pays R 1,200 & 6 pays R 1,440
(R240 instead of R272)
DISCOUNTS:
1. 20 or more tickets = 10% discount;
2. 100 or more tickets = 15% discount;
3. Student / Pensioner = 20% discount
Students: on presentation of a valid student card at a Computicket outlet and
limited to 1 ticket per student card
Pensioner : only available at Computicket outlets and
limited to 1 ticket per person
4. Full house = 30% discount weekday performances only
5. Charities/Fundraisers : 15% on top of the discounts offered above (no Friday or Saturday performances)
BOOKINGS:
Computicket by calling 083 915 8000, visit www.computicket.com or
visit your nearest Computicket outlet
CORPORATE / GROUP TICKET PACKAGES:
Contact Warwick Hospitality & Events, 011 467 8400 or caryn@warwickhospitality.co.za
GROUP HOSPITALITY PACKAGES:
Montecasino Hospitality & Corporate Events, 011 510 7905 or montecasino.hospitality@tsogosun.com
HOTEL SHOW AND STAY PACKAGES:
Montecasino Reservations Centre, 011 367-4260 or montecasinoreservations@southernsun.com