Riverdance on ice – highlights from the TV show
April 1, 2011
October 2010, the worlds of figure skating and Irish dancing collided like never before.
Only it was much more of a harmonious collaboration than a collision.
That collaboration aired Saturday, Feb. 19, 2011, on NBC, in a special called "Riverdance on Ice," which stars the Riverdance troupe and 12 Olympians. The show rebroadcasted on Hallmark Channel March 15 and 21, 2011.
The impressive figure skating cast has earned a total of four Olympic medals and 24 World Championship medals. The skaters were Americans Tanith Belbin and Ben Agosto, Sasha Cohen, Todd Eldredge, Amanda Evora and Mark Ladwig, Emily Hughes, Michael Weiss, Canadians Shae-Lynn Bourne, Jeffrey Buttle, Joannie Rochette, and British skater Steven Cousins.
When the Riverdance cast members first heard about "Riverdance on Ice," the idea sounded a bit foreign.
"My first impression was, 'Okay I'm going to have to learn how to ice skate and not only ice skate
but dance on the ice,'" said Padraic Moyles, Riverdance's male lead.
"Then as they spoke more about it and how it was gonna work and how to integrate the Riverdance
with the ice skating … I was like, 'Wow this is gonna be really really cool.'"
He was right – it was cool. In reality the skaters would skate programs that were choreographed to the Riverdance show while the Riverdance cast danced on stage.
The show was taped in Lowell, Mass., a location that worked perfectly considering the state's many figure skating connections.
The evening's hosts were 1994 Olympic silver medalist Nancy Kerrigan and 1998 Olympic silver medalist Michelle Kwan.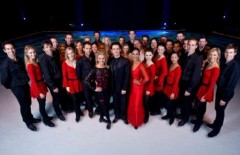 Read Blog Post Figure Skating mee