Interview with Riverdance Costume Designer Joan Bergin
March 24, 2011
The Jig's Up
Before the Riverdance costumes make their stage debut they've already done a tour of Europe.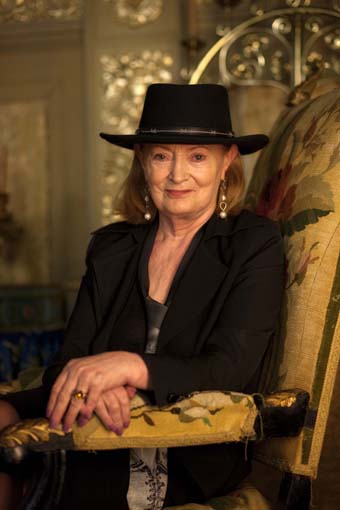 It starts with a colour as green as the rolling hills of Ireland. White silk velvet hand-painted a deep green in a Dublin studio. Suitably hued, the fabric travels to Germany where it is cut and sewn, then to Paris for embroidery and back to Dublin again.
For more than a decade the costumes of Riverdance have trekked a well-worn path using the same tailors, embroiderers and craftspeople. By the time this green dress, worn by the lead female dancer of Riverdance, debuts on stage it has already completed it s own European tour.
The costumes are the brainchild of Ireland's most famous export in the field of costume design, Joan Bergin.
Known for her award-winning costumes on The Tudor's, Bergin started working with Riverdance producers Moya Doherty and John McColgan when the production debuted on Broadway 10 years ago. Like the production, Bergin says the fabric and patterns on the dress were inspired by Celtic mythology
"The previous costumes were elegant but they decided t hey needed something more high-powered for Broadway," Bergin says. "I thought I would take a fashion slant on the old Celtic myths."
Bergin's" fashion slant" was much closer to popular culture. While the fabric sings of lrish tradition, the shape of the dress was inspired by the figure-hugging design worn by Victoria Beckham at her 1999 wedding at a castle near Dublin.
"It had this wonderful bodice that pushed up the bust with the fabric draped down over it,"Bergin says" I thought it would be fantastic for a dancer."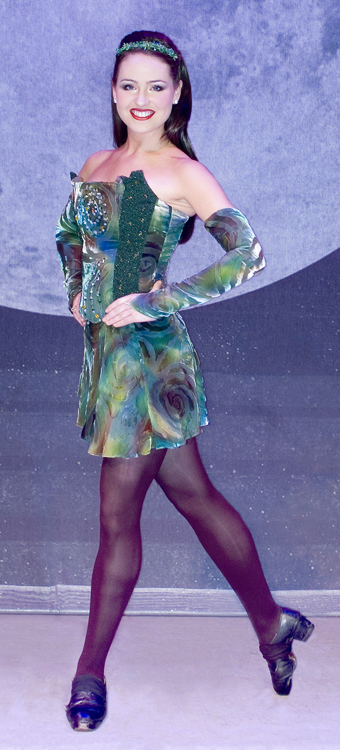 Since then the style of the dress has undergone minor alterations, changing from an original bodice and skirt ensemble. But the process of making it remained the same. "To have used the same tradespeople for such a long time is quite astonishing," Bergin says.
The white silk velvet is milled in Dublin and handpainted at Bergin s Dublin studios before travelling to Cork where, using a technique known as devoure, acid burns designs of Celtic swirls from the fabric's pile.
The garment is then sent to Germany to be tailored to the dancer's measurements then to Paris for painstaking embroidery with Swarovski crystals. Back to Dublin for final fittings, Germany for final alterations and then to Bergin s studio, ready for the stage.
While not for sale, Bergin estimates each dress costs up to $3000 to create.
"It is a very expensive way to work. I don't come from a couture background but l know now why those creations are so expensive."
There are three lead female dancers touring with the latest and final production of Riverdance, which opens in Sydney tomorrow, and each has her own couture green dress.
As the costume supervisor with the production, Nikki Connor's role is to keep the dresses stage-ready.
"The fabric can fade under the arms so we repaint it," Connor says". I also do a lot of patching up and rebeading.
"Sometimes dancers lose weight so we might have to take them in or alter them slightly."
After each production, most of the dresses are put into storage at Bergin's studio and warehouse. Some have been gifted to museums in New York, Dublin and Limerick.
This is the last Riverdance tour of Australia but these costumes are designed for productions in Asia and South America.
Riverdance is at the Capitol Theatre from Friday March 18 to Sunday March 27. For bookings, visit ticketmaster.com.au
The Riverdance Farewell Tour continues to the Regent Theatre, Melbourne March 30 to April 10 and the Lyric Theatre, QPAC, Brisbane April 12 – 17, 2011.
Article written by Emily Dunn, for the Sydney Morning Hearld