Scarlet's birthday wish comes true in Sydney
March 23, 2011
Tourism Ireland & Riverdance make Scarlet's birthday wish come true
On March 18th, one little girl's dream to meet her Riverdance idols came true as she met with some of Riverdance's star performers at the premiere of their Sydney Farewell Tour which continues at the Capitol Theatre until 27 March 2011.
The meet and greet was organized by Tourism Ireland and Riverdance and couldn't have come at a more opportune moment as it was Scarlet's 5th birthday the day before the show on St. Patrick's Day.
Scarlet has been a fan of Riverdance since she was two years old when her parents played a Riverdance DVD for her, which left her mesmerized.
Since then, she happily dances around the sitting room to the music and DVD at any chance she gets. Scarlet's proud parent's Nikki and Martin explained that she is a huge fan of all things Irish, so much so, that when they were getting a family portrait done on St. Patrick's Day, Scarlet refused to remove a shamrock sticker from her face for the photo!
Coincidentally, the family also live on none other than St. Patrick's Street in the Northern Beaches! When asked what her favourite part of the Riverdance performance was, Scarlet replied, "All of it".
The Riverdance Farewell Tour continues to the Regent Theatre, Melbourne March 30 to April 10 and the Lyric Theatre, QPAC, Brisbane April 12 – 17, 2011.
Scarlet posed for photos with Riverdance performers Niamh O'Connor, Jason Oremus, Chris Naish & Padraic Moyles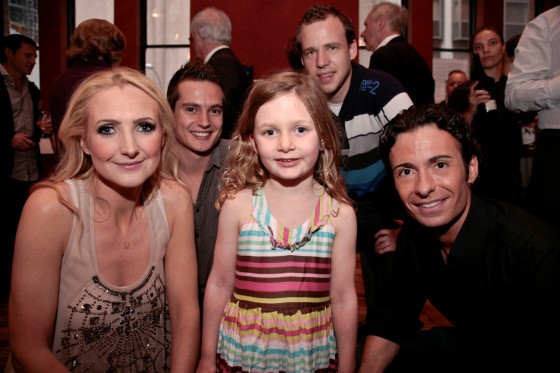 Irish Dance Flash Mob - St Patricks Day
<
Interview with Riverdance Costume Designer Joan Bergin
>